The Bitcoin Gold hard fork, expected on Oct. 25, will create a new version of Bitcoin that's especially good news for Nvidia stock.
You see, the hard fork will make it possible to mine Bitcoin Gold with PC graphics cards – the sort of GPU cards in which Nvidia Corp. (Nasdaq: NVDA) specializes.
Nvidia stock has already gotten a boost from cryptocurrency mining, particularly from those wishing to mine Ethereum, Litecoin, Monero, and a few dozen other cryptocurrencies.
NVDA stock is trading at about $198 – up 85% since May, when cryptocurrency prices started to skyrocket. But as we'll see, those gains are merely an appetizer for gains that will push Nvidia past $300 a share.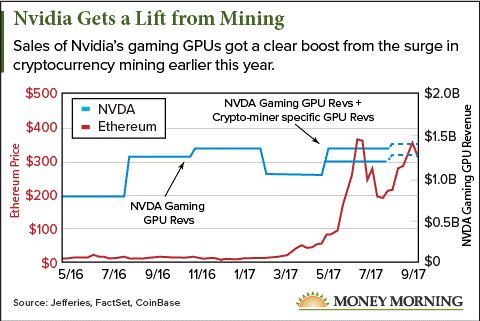 In the Q2 earnings conference call in August, Nvidia CEO Jen-Hsun Huang said GPUs sold to cryptocurrency miners contributed about $150 million in revenue in the second quarter. That was a big reason for the 56% quarter-over-quarter jump in the company's earnings.
But Bitcoin hasn't been a part of that story – until now…
How Bitcoin Gold Will Expand GPU Mining
Although it was possible to mine Bitcoin with graphics cards in its early years, the arrival of powerful ASIC (application-specific integrated circuit) machines in 2012 soon made mining with GPUs unprofitable. The ASICs were overwhelmingly better at it.
But the expense and heavy electricity requirements of ASICs (and later ASIC "farms") began to concentrate Bitcoin mining into fewer and fewer hands.
This contradicts the intent of Bitcoin creator Satoshi Nakamoto of having a large, decentralized network to prevent anyone from gaining too much influence over the cryptocurrency.
The Bitcoin Gold team specifically set out to create a version of Bitcoin with a different, incompatible mining protocol that is ASIC-resistant.
When the Bitcoin Gold hard fork occurs, it will create a new Bitcoin network ideally suited to GPU mining.
That will feed the already rampant demand for Nvidia's high-end graphics cards. When cryptocurrency prices spiked in May, so did the profitability of GPU mining, sparking a run on graphics cards from both Nvidia and rival Advanced Micro Devices (Nasdaq: AMD).
Nvidia already has sought to exploit this opportunity in June with a new GPU targeted at cryptocurrency miners, the Mining P106-6G.
The arrival of Bitcoin Gold will create a new source of demand for high-end GPUs.
"We think the ASIC-resistant Bitcoin Gold fork should be monitored to see if adoption begins," RBC Capital's Mitch Steves wrote in a research note last week. "Given that ASICs were one of the primary concerns for Bitcoin, if Bitcoin Gold sees traction, GPUs could be used to mine the new ASIC-resistant currency."
But not everyone agrees Bitcoin Gold and the mining of other cryptocurrencies will continue to drive new business to Nvidia…
Why Cryptocurrency Mining Is a Long-Term Catalyst for Nvidia Stock
Some analysts distrust the cryptocurrency-mining boom.
"While we have seen a surge in demand from cryptocurrency mining in the second quarter for GPU cards, we are not at all bullish on the sustainability of this demand," Ambrish Srivastava, an equities analyst for BMO Capital Markets, wrote in an August research note.
The fear is that a collapse in cryptocurrency prices will make mining unprofitable, which in turn will torpedo demand for GPUs used for mining.
The skeptics point to the 2013-2014 period, when a surge in the price of Bitcoin triggered a surge in GPU sales. But the crash in 2014, following the collapse of the Mt. Gox exchange, caused many casual miners to quit.
As the ex-miners sold off their GPUs, the market was temporarily flooded. That hurt both AMD and Nvidia.
Another threat to GPU sales analysts point to is a change to the Ethereum-mining algorithm, from "proof-of-work" to "proof-of-stake," expected next year. The proof-of-stake system takes GPUs out of the equation.
But when that time comes, Bitcoin Gold will absorb at least some of that orphaned GPU power. And unlike in 2014, there are plenty of other GPU-mineable cryptocurrencies now, including several in the Top 20 such as Litecoin, Monero, and Zcash.
And while a complete collapse of all digital currencies can't be ruled out, it's very unlikely. This is a groundbreaking technology that's here to stay. Despite the steep increase in crypto prices in May and June, the biggest gains lie ahead.
Standpoint Research head Ronnie Moas sees the market cap of all cryptocurrencies rising from $173 billion today to $2 trillion over the next 10 years.
That means GPU demand from Bitcoin Gold and other cryptocurrencies will remain strong for years to come.
This will certainly drive Nvidia stock higher, but it's far from the only reason to like NVDA.
This stock has multiple catalysts…
How NVDA Stock Can Get to $300
Nvidia is fortunate in its ability to tap several cutting-edge areas of technology that have tremendous growth potential – cryptocurrencies just being one.
That's why Nvidia is a top recommendation of Money Morning Executive Editor William Patalon III.
"This is a company that's a player – a leader, in fact – in some of the biggest 'value added' growth markets for chips, including video games, VR (virtual reality), AI (artificial intelligence)/ML (machine learning), and connected cars," Patalon said. "And its powerful graphical computing/AI-based chips have positioned it as a major player in the driverless auto market."
Since Patalon first recommended NVDA stock in June 2013, it's soared 1,270%. But even after those amazing gains, he still considers Nvidia a buy.
"When you start adding up all these new and varied opportunities, you realize that most of these are nascent markets – meaning the upside is huge," Patalon said. "That translates to surging sales – and surging corporate profits."
What Patalon is talking about will be reflected in earnings over the next few years.
According to FactSet estimates, Nvidia's annual earnings per share are projected to increase from $3.49 now to $6.15 by 2021.
At the current price-to-earnings ratio of 56.62, NVDA stock would soar to $348, a gain of more than 75%. Even a drop in the P/E to 50 would put Nvidia at $307, a 55% gain.
Of course, the future P/E will depend on how the market values Nvidia's prospects in 2021.
Given the long-term nature of most of Nvidia's catalysts, the P/E should not fall significantly. That means a price target of $300 or higher over the next few years is more than likely.
"I still like this stock as an 'accumulate' play for long-term investors," Patalon said.
"Buy a foundational block now and look to add to that stake on pullbacks."
Up Next: A $127 Billion Profit Opportunity You Won't Want to Miss
Patalon's recommendation of Nvidia four years ago – when it was trading at just $14.45 a share – is just one example of his uncanny stock-picking ability.
Right now, he's hot on the trail of another ready-to-explode tech opportunity. Best of all, Wall Street isn't taking this seriously yet – even though Congress just pumped $700 billion into the sector, and the military needed this same tech ready to go yesterday.
And this tech is still in its very early stages – which means most of the profit potential lies in the future.
— David Zeiler
[ad#mmpress]
Source: Money Morning