Today, we're bringing readers one of the best biotech stocks in 2017, a pick from Money Morning Executive Editor Bill Patalon. He's not the only one bullish on this stock. Some Wall Street analysts estimate this biotech stock could soar more than 100% in the next 12 months.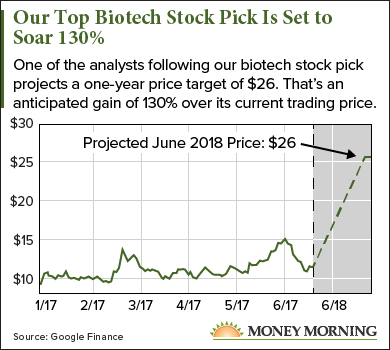 Increasing biotech drug sales in the United States will be a major catalyst for this stock. Biotech sales are expected to hit $128 billion in 2019, according to FactSet.
Sales in 2017 are expected to come in at $107 billion. That's a nearly 20% increase in two years.
The biotech company we're talking about here develops cancer and pain treatments. Pain treatments alone were a $60 billion market worldwide in 2015, according to Transparency Market Research.
This top biotech pick is introducing a new cancer drug to the market in August that is expected to push the stock to new highs.
"If you really want to cash in, commercialization [of this new drug] is the 'triggering event' that can make that happen," according to Patalon.
This drug might also be able to treat pain. These are some of the factors causing at least one analyst to forecast a 130% gain for this stock over the next year…
130% Growth Is Just the Beginning for This Biotech Stock
On May 15, Patalon told readers about the opportunity in this biotech stock. A few days later, on May 24, the FDA gave final approval for the company's new marijuana-based medication that treats chemotherapy-induced nausea and vomiting.
[ad#Google Adsense 336×280-IA]The new medication will be available in August and has the potential to help millions of patients.
In 2014, there were almost 15 million cancer patients in the United States, according to the National Cancer Institute.
And 80% of them suffer from chemotherapy-induced nausea and vomiting.
But that's just the current FDA-approved use of the drug. Studies have shown the active ingredient also treats pain, which could open up a new market for the medication.
In 2015, the pain treatment sector was worth $60.2 billion globally, according to Transparency Market Research. By 2024, global demand for pain treatments is expected to grow to $83 billion.
Buying this top biotech stock now means getting in before it profits from the growth in these markets. And if the FDA approves the company's next drug soon, that number could explode…
For the Best Biotech Stock in 2017, the New Treatment Is Just the Start
This latest entry on our list of the best biotech stocks to buy right now is Insys Therapeutics Inc. (Nasdaq: INSY).
The company's newest drug, Syndros, is expected to start selling in August. And the company has six treatments in its pipeline, two of which are in phase 3 clinical trials.
One of the most exciting drugs in its pipeline, Naloxone Sublingual Spray, is for the reversal of opioid depression. Given the high rates of opioid use, this drug's market is growing rapidly. In 2013, there were 207 million prescriptions for opioids, according to the National Institute on Drug Abuse.
And the longer you are on opioids, the higher your chance for depression. If you are on opioids for more than 180 days, you are 53% more likely to be depressed, according to a study published in Science Daily. So this new treatment has a potentially huge target market if it is FDA-approved.
With a new drug hitting the market in two months, analysts project revenue growth of 33% for 2018. Over the next five years, analysts expect INSY to grow earnings by 28% per year.
Currently, Insys stock is trading for $12.07 (up 5% Tuesday). Analysts' consensus one-year target price is $16.40, for a gain of 34%. But one-year price estimates are as high as $26, which would be a gain of 130% from today's price.
The Bottom Line: With a new drug on the market and six in its pipeline, Insys stock is a great biotech investment. The potential for growth is staggering, with 130% return expected in the next 12 months, and that's before most of its pipeline drugs make it to market.
— Ashley Moore
[ad#mmpress]
Source: Money Morning