I'd love to buy some exposure in European stocks, but there's a small hitch: We're in the middle of the "blow-off" parabolic move right now.
[ad#Google Adsense 336×280-IA]A blow-off is a bearish signal if ever there was one, which means a rally is just about out of steam – "just about" is the operative term there.
But with a little patience and a look at the charts I'm going to show you, we'll have a fantastic opportunity to jump all over when the time comes.
It's coming soon, as you'll see.
Now, there are two big reasons why I like Europe in the intermediate term…
Here's Why We Need a Piece of Europe Now
The reasons I'm so eager to get exposure here aren't immediately obvious.
European stocks have lagged the U.S. stock performance, bogged down by the overall debt problems among the so-called "PIIGS" of the Eurozone: Portugal, Italy, Ireland, Greece, and Spain.
Then of course came the threat of Grexit and the reality of Brexit.
As you can see in this chart comparing European to U.S. stock returns, the United States has outperformed by almost three-to-one since the bottom of the 2007-2009 Great Recession: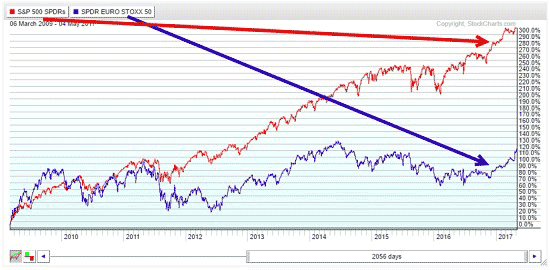 Now, it has to be said, the U.S. economy did make a better recovery and did not fall as deeply into debt problems as the Eurozone, and corporate earnings growth was certainly better…
But not three times better.
When an asset class outperforms another over time, the two usually revert back toward the mean at some point in time. And that's what happening now. Let's look at that same chart on a shorter time frame: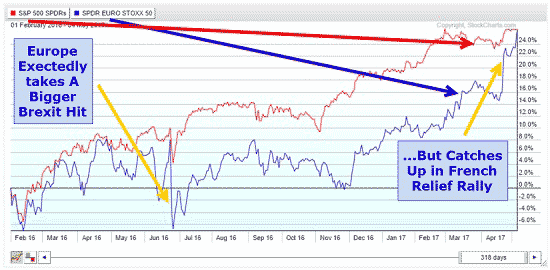 More recently, with U.S. stocks stuck "in the box" since mid-February, money has been rotating into Europe: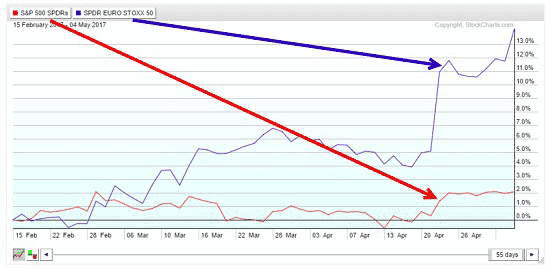 This type of asset rotation is not at all unusual and can last for quite a while – especially when there is a fundamental underpinning for rotation.
That leads me to the second big reason why I like European stocks in the intermediate term…
The European Union economy has been expanding. Here's the trend of the Euro Area Services PMI (Purchasing Manager's Index) as reported by highly respected Markit Economics: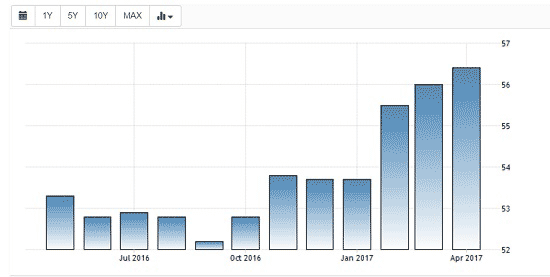 That's a pretty impressive uptrend. And even more impressive, the Manufacturing PMI has been enjoying a steady expansion: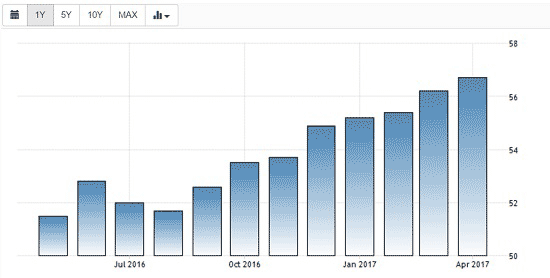 Now, as I mentioned above, we have a problem – at the moment – with the setup: European stocks are enjoying a blow-off style move: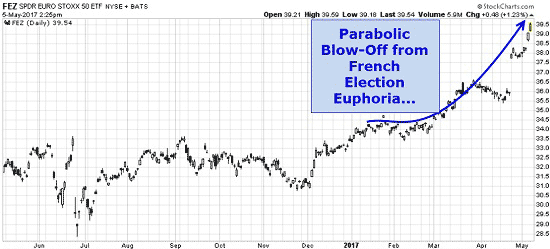 The good news is that these type of blow-off moves usually get a fairly deep pullback.
That's the signal to move in. I think this will be very "tradeable" for the short and intermediate term.
I'm going to issue very specific instructions to my Stealth Profits Trader readers when this happens, as it could be good for a series of double- or even triple-digit gains before it's all said and done.
The pullback itself will be profitable with options like puts. But once the pullback is over, anyone can profit from or even trade the "next leg up," easily, with U.S.-listed shares, the SPDR Euro Stoxx 50 ETF (NYSE Arca: FEZ), which I've charted above.
The Bottom Line: European stocks are due for a pullback. The pullback could be profitable in and of itself, and improved growth means European equities' run back up could be even more profitable.
— D.R. Barton, Jr.
[ad#mmpress]
Source: Money Morning