The March 2 IPO debut for Snap (NYSE: SNAP) was pretty as a picture for the parent of the popular photo-messaging app Snapchat as it soared by 44%.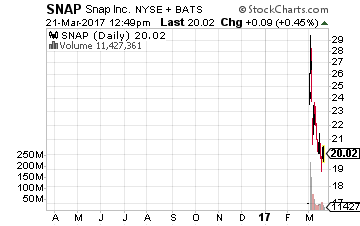 But ever since, its valuation has been disappearing faster than the ephemeral messages and 'stories' that are a feature of the app.
The shares closed last week at $19.54. That put people that bought the stock after it began trading publicly into the red. However, institutions that bought at the $17 IPO are still in the green.
My feelings regarding Snap were summed up nicely in a recent headline from the Financial Times about Snap that read, "Snap IPO is the foolish leading the blind."
I understand where the FT was coming from – here was a company that has never made a profit and yet it was being valued at about $28 billion. Last year, Snap lost more money than the revenues it generated.
And there were no real reasons for investors' optimism.
[ad#Google Adsense 336×280-IA]Business Model Failing
Even Snap's IPO prospectus gave 32 pages of risk factors facing the company. The big plus Snap has in its corner is the demographics of its user base.
The largest number of Snapchat users falls into the 13 to 24 age range.
This is a group advertisers are eager to connect with on mobile devices, since they watch little traditional television. There are about 158 million Snapchat users that open the app an average of 18 times a day.
Sixty percent of these users send a snap to a friend daily and twenty-five percent create a 'story'.
However, user growth in its latest quarter slowed to a crawl, growing by only 3%. It seems that Snap may be reaching a saturation point in that demographic.
And marketers gripe about Snapchat's lack of user data and therefore its ability to judge the effectiveness of ads placed on Snapchat.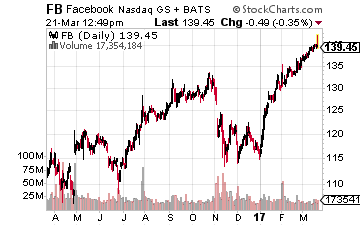 Next there is growing competition from Facebook (Nasdaq: FB).
Since its launch last summer, Instagram Stories has already grown to 150 million daily active users.
That puts it nearly on par with Snapchat. And worryingly, some surveys show that Snapchat and Instagram are equally popular among U.S. teens.
Another potential negative is that Snap users are mainly in the developed markets. Contrast that to Facebook, which has made a major push into developing markets.
It may be difficult for Snap to crack those high growth markets with Facebook already established there.
A Camera Company?
Then there's the bizarre fact that Snap doesn't consider itself a social media company but a camera company.
In late 2016, Snap launched its first hardware product – video sunglasses dubbed "Spectacles".
These sunglasses are being sold from roaming bright yellow vending machines, with one large eye, called Snapbots. These eyeglasses, priced at about $130, will record what the wearer sees and upload that to the photo app.
Reports though are that we may have another case of combustible technology here. It seems that some spectacles melted from excessive heat while in the re-charging case for about 30 minutes.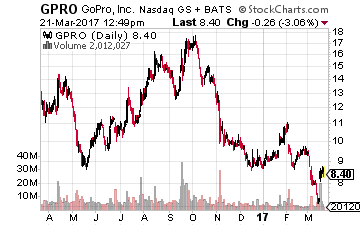 It's beyond me too as to why any company would want to enter the ultra-competitive hardware market – think about how GoPro (Nasdaq: GPRO) and other recent entrants into the space have struggled.
A Jerk Share Structure
I've heard a few Wall Street denizens call the founders of Snap – Evan Spiegel and Bobby Murphy – "founder-jerks".
A look at the share structure shows why and steers me away from the company even if it were performing superbly.
The C shares will be owned solely by the two founders and have 10 votes each. The B shares, which went to early investors and employees, have one vote each. The A shares, that the public owns, have no voting rights at all.
By the way, if the B shares are sold or otherwise transferred, they will automatically become A shares. In other words, no voting share will ever be held by an 'outsider'.
The truly great technology corporate leaders, like Steve Jobs or Jeff Bezos, don't need such "protections" against incompetence.
The share structure has infuriated even ordinarily complacent institutional shareholders. Some have mounted a campaign against Snap's inclusion in the S&P 500 index.
Good to see. After all, this is the United States where we're supposed to protect shareholder rights and not some banana republic.
The Future of Snap
Let's ignore the share structure for the moment and get back to the company's future.
The key to its survival will not be funny-looking sunglasses. It will be centered on the founders figuring out how to monetize its user base, as Facebook has.
Because if Snap doesn't, the more users it gets, the higher the costs and the bigger the losses will be.
Snap has yet to show that it has reached that level of maturity as a company. Perhaps it never will, but with such a huge valuation, the market is still assigning a lot of value to a company that I think might have already reached its peak. That's what makes investing in it so dangerous.
— Bret Jensen
[ad#ia-bret]
Source: Investors Alley