To say that Donald Trump's Cabinet is pro-oil is an understatement…
It's an oil industry "dream team." Just look at the appointments of former Texas governor Rick Perry as Secretary of Energy, ExxonMobil (XOM) CEO Rex Tillerson as Secretary of State, and Montana Congressman Ryan Zinke as Secretary of the Interior.
[ad#Google Adsense 336×280-IA]As the former Governor of Texas, Perry has many ties to the oil industry. He sits on the board of both
Sunoco Logistics Partners (SXL)
and
Energy Transfer Partners (ETP)
– both companies own stakes in the embattled Dakota Access Pipeline.
Zinke is another oil industry favorite.
According to the Washington Post, the oil and gas industry contributed more than $345,000 to his campaigns… making them the largest contributors by far.
You couldn't find three more pro-oil guys at the Petroleum Club of Houston on poker night. That's great news for folks looking to invest in the U.S. oil industry – and one group of companies in particular…
All this means taxes, regulations, and permitting will likely be less restrictive on the U.S. oil industry over the next four years. The threat of a ban on the use of fracking to produce oil is gone. The red-tape strangling new pipelines will ease or disappear. And the push for new infrastructure could actually move projects ahead faster than before.
Take a look at the following chart, which shows U.S. oil production since 2000. As you can see, production boomed over the past few years…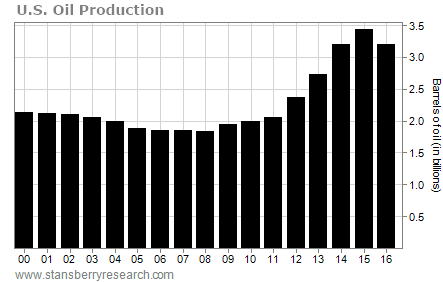 But that new production happened too fast. The industry couldn't move all of that oil in existing pipelines. Even after companies converted some major pipes from gasoline to crude oil and changed the direction to flow from the Midwest to refiners in Houston… there just wasn't enough room to keep up with the rate of production.
Because of the lack of pipelines, companies began to ship crude oil trapped in Montana's Bakken Shale region on trains. Derailments caused spectacular fires and sometimes deaths.
It's much safer to move oil beneath the Earth's surface in pipelines. However, new pipelines take a long time to plan and build. And a couple of new projects became political battles – the Keystone XL pipeline from western Canada to Nebraska and the recent Dakota Access pipeline from North Dakota to Illinois.
The country needs pipelines to transport oil from the fields to market. The new Trump administration understands that need and will push for those projects.
As an investor, the easiest way to profit is through master limited partnerships (MLPs) – publicly traded partnerships, primarily in energy-related businesses like pipelines.
Because of its structure, an MLP doesn't pay corporate taxes. In exchange, it pays out most of its earnings to investors in the form of "distributions" – its version of a dividend. These big distributions make MLPs popular income investments. (Of course, because of their unique structure, you should talk to an accountant before investing in one.)
We like MLPs because their earnings are more stable than your typical oil and gas producer. That's because pipelines are less dependent on the prices of oil and gas. Instead, their revenues depend on the volumes of oil they carry. In addition, most pipeline MLPs pay hefty dividends.
Several exchange-traded funds of MLPs – like the Alerian MLP Fund (AMLP), the JPMorgan Alerian MLP Fund (AMJ), and the UBS ETRACS Alerian MLP Infrastructure Index Fund (MLPI) – make it easy to own a basket of pipelines. These three funds track the Alerian MLP Index, which includes about 85% of the oil and gas MLPs in the market. It holds 44 companies with a total market cap of $302 billion.
Any one of these funds would be a simple way to participate in the likely bull market in U.S. oil infrastructure under Trump and his dream team. Consider putting your money to work in them today.
Good investing,
Matt Badiali
[ad#stansberry-ps]
Source: Growth Stock Wire