By now we've all seen the "Trump Tweet Effect" in full effect these past weeks, as the president-elect's unfiltered social media messages hit some of Wall Street's favorite stocks, like Boeing, for better… or worse.
[ad#Google Adsense 336×280-IA]Lockheed Martin, for instance, one of our best defense plays, lost $4 billion in value in the aftermath of Trump's tweeted remarks about the F-35 Lightning program.
Frankly, the losses on Lockheed and Boeing, and for that matter the gains on SoftBank, say more about Wall Street traders than about Donald Trump – or the stocks he's talking about.
But the truth is, it's likely we can look forward to this kind of "volatility" from here on out.
Unless… you go with the recommendation I'm going to show you now. It's offering explosive growth in a blue-chip package – 37% year to date, and I can't imagine any mere 140 characters are going to ding it…
Everything Is Going Right for This Company
The fact that this company has packed on double-digit gains – 20% since October alone – this year would be nice enough, but this mammoth is worth $153 billion.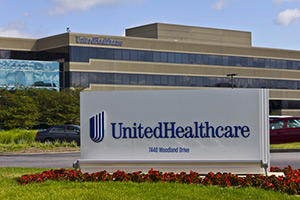 It's one of the healthcare sector's biggest players, and it's done well enough in the Obama Era, but it's caught up in a megatrend that will only increase with Republicans in control of Washington.
I'm talking about UnitedHealth Group Inc. (NYSE: UNH), the largest healthcare provider in the United States.
There are so many massive profit catalysts lining up under this stock it's hard to cover them all, so I'll look at the three most powerful…
Catalyst No. 1: (Super) Size Matters
In the health insurance game, which also includes many complementary businesses like Prescription Benefit Management (PBM) and automated record systems, the bigger you are, the better you can manage costs.
You may recall in 2015 there was a great deal of talk about the big healthcare insurers merging. UnitedHealth was looking to acquire Aetna Inc. (NYSE: AET), while Cigna Corp. (NYSE: CI) was trying to merge with Anthem Inc. (Nasdaq: ANTM).
But then Aetna decided that instead of being acquired, it would do some acquiring on its own; the insurer announced it was planning on merging with Humana Inc. (NYSE: HUM), all but scuttling UnitedHealth's merger plans.
But now, the two mergers between Humana and Aetna, and Cigna and Anthem, are tied up as the U.S. Department of Justice looks into whether the mergers are anticompetitive.
Bottom line: UnitedHealth actually dodged a bullet by not getting involved in the smaller companies' M&A soiree. It doesn't have the legal fees and time suck involved in a major action like a government investigation, and it's still growing at a rapid clip.
Catalyst No. 2: The ACA Is on Life Support
One of the most profound changes the surprise election results will bring is that the Affordable Care Act, aka Obamacare, at least as we know it, is likely dead.
This is of course great news to all healthcare insurance companies, and that goes double for UnitedHealth, the biggest of them all.
Under the Affordable Care Act, insurers were having a tough time building policies that were affordable for individuals but also profitable for the insurers. In October, many insurers announced they could not sustain the losses and pulled policies from a number of states.
UnitedHealth is expected to lose $850 million this year on its Obamacare policies. Aetna, Anthem, and Humana are expected to lose $300 million each. A revamped Obamacare or a new version of universal healthcare will certainly make a big difference in healthcare insurers' bottom lines.
Investment firm Jeffries, which follows UnitedHealth closely, has raised its price target from $168 to $182 in recent weeks. The stock is currently trading around $161.
Mizuho revised its recommendation from "Neutral" to "Buy" in November. Credit Suisse rates it an outperformer, while Cantor Fitzgerald upgraded its rating from "Hold" to "Buy" in December.
The point is, there is significant upside here, and everyone on the Street is beginning to recognize it.
Part of the reason biotechs and pharma companies are still looking for an upside is the Street is concerned that if Trump continues in the populist vein, he may go after drug pricing to build his blue-collar base.
But that concern isn't an issue with healthcare insurers. They have played the game and have been trying to make Obamacare work, so they will have a better seat at the table when new healthcare decisions are made.
Catalyst No. 3: A Brisk Business in Baby Boomers
This is the biggest, most powerful trend of all; it's given UnitedHealth the most momentum over the long term.
The graying of America is nothing less than inescapable. In 2014, according to the U.S. Department of Health and Human Services, there were 46.2 million people in the United States over the age of 65, about 14.5% of the U.S. population.
By 2040, they're expected to make up 21.7% of the population. And by 2060, the older set will represent almost one-third of the U.S. population.
That is the kind of long-term trend that makes healthcare insurers so compelling. There's a captive market. The related pharma and biotech segments will have drugs that come and go over the years, but there's no guarantee that any of them have the wired-in growth of healthcare insurers.
Buy Now for Years of Stress-Free Upside Potential
In 2015, UnitedHealth's revenue was up 20% to $160 billion. In 2016, it's on track to hit $180 billion. Optum, its health services division that improves the efficiency of the healthcare system, grew 40% in 2015, and UnitedHealth is expecting a whopping 20%-plus growth at Optum in 2016.
Free cash flow – money that can be accessed for, say, mergers, has jumped from $6.8 billion to $8.2 billion in 2015. Dividends have been growing an average of 30% from 2010 to 2015.
And UnitedHealth has already raised guidance for 2017, beyond analysts' estimates, so it's only a matter of time before Wall Street… and everyone else… comes along for the ride.
— Michael Robinson
[ad#mmpress]
Source: Money Morning