Chances are good that you'll have a cocktail or two at this year's holiday party.
The cocktail scene remains strong.
[ad#Google Adsense 336×280-IA]As a group, younger drinkers have started to move away from beer and its "full belly" feeling.
In 2015, beer's share of U.S. alcohol sales fell for the sixth straight year – and the 12th time in the past 15 years – according to data from the Distilled Spirits Council of the U.S.
Demand for distilled spirits like vodka, bourbon, and gin is up 20 million cases per year since 2010. These drinks are stealing market share from beer, which made up just 48% of the market in 2015 (down from 56% in 2000).
Liquor sales rose from 29% to 35% over the same period. Meanwhile, thanks to a bear market in grains that has lasted more than four years, making liquor is cheap today. That has allowed liquor distillers to thrive. And it's giving speculators an opportunity today…
Let's start with this five-year chart of wheat prices…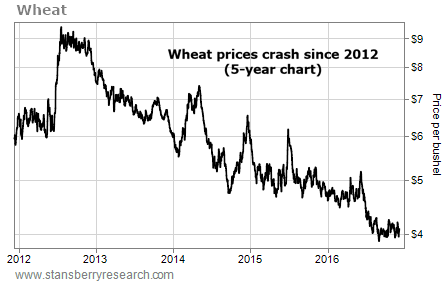 Wheat is at its lowest point since 2006. Today, it costs a little more than $4 per bushel. In late 2012, it traded at more than $9.40 per bushel.
It takes about six pounds of grain to make a gallon of distilled alcohol. As you can imagine, grain prices are a huge factor for distilleries' bottom lines. Cheap wheat has boosted profit margins for industrial distillers.
Take MGP Ingredients (MGPI), for example. As you can see in the chart below, shares of the $800 million alcohol supplier have skyrocketed more than 1,450% over the last four and a half years…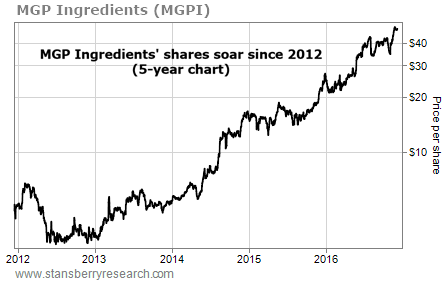 MGP Ingredients produced about 235 million cases of bourbon, gin, vodka, and rye whiskey in 2015. It's also the largest U.S. supplier of rye whiskey and gin.
Take a look at the two charts above one more time… You'll notice that the stock's price action is almost an exact inverse of wheat's downtrend. That's the effect dirt-cheap wheat prices have had on major distillers.
Today, grain prices appear to have stopped falling, but they haven't turned higher yet. Traders should watch this closely. MGP Ingredients is priced for perfection. Once wheat prices begin to rise, the stock will be a prime candidate for a short sale.
On the other hand, if wheat prices remain low or even fall from here, that will extend MGP Ingredients' bull run. If this happens, don't be afraid to go long and ride the bull market higher.
Keep a close eye on wheat prices for a win-win trading opportunity for short-term speculators… And enjoy that cocktail at your holiday party.
Good investing,
Matt Badiali
[ad#stansberry-ps]
Source: Growth Stock Wire