A couple of weeks ago, the latest round of "13F" forms came in…
Folks who manage at least $100 million need to file these forms each quarter with the U.S. Securities and Exchange Commission… They reveal all of the filers' stock holdings.
[ad#Google Adsense 336×280-IA]So if you know where to go and whose 13Fs to look at, they can be a great source for trading and investment ideas.
In my DailyWealth Trader (DWT) service, I follow a couple dozen elite money managers who have decades of experience, huge research budgets, and long track records of success.
And in the latest batch of 13Fs, I noticed that some of them recently poured tens of millions of dollars into one of my favorite businesses…
Technology giant Intel (INTC) makes semiconductors… the little engines that power all kinds of electronic devices. Companies use its chips in computers, tablets, smartphones, cars, medical devices, and data centers.
One reason I like Intel is that it dominates the industry. Last year, it sold more than $50 billion worth of its chips. That's a 34% market share… and more than its top four competitors combined. It has a huge, 20% profit margin.
On top of that, Intel's stock is cheap based on its earnings. It trades at a discount to the benchmark S&P 500 Index of about 35%. Plus, Intel pays shareholders a 3% annual dividend. That's more than 40% larger than the 2.1% you would earn if you bought a basket of all S&P 500 companies.
Recently, some BIG money managers have started picking up shares…
Ray Dalio is one of the most respected thinkers in the money-management business. And his firm, Bridgewater Associates, is one of the world's largest money managers. According to Bloomberg, one of Bridgewater's flagship funds returned 15% annually from 1991 to 2013.
Last quarter, Dalio bought an additional 535,000 shares of Intel (adding to the 988,000 he already held). The $53 million position is now Bridgewater's largest individual stock holding.
George Soros is likely the greatest trader to have ever lived. Together with "market wizard" Jim Rogers, Soros managed their Quantum Fund to a 3,365% return over 11 years. Now, Soros manages around $3 billion in his Soros Fund.
Last quarter, Soros took a new position in Intel worth $24 million. It represents about 1% of his fund's assets.
Stanley Druckenmiller was featured in the highly recommended trading book The New Market Wizards because of his ability to consistently generate enormous returns (more than 30% annually) on multibillion-dollar portfolios. He was the lead portfolio manager for Soros' Quantum Fund for more than a decade… And he was the idea man behind the famous short bet against the British pound (1992), which booked a $1 billion profit for the fund. People say the trade "broke the Bank of England."
Druckenmiller's new $19 million position in Intel represents nearly 2% of his fund's (Duquesne Capital Management's) $1 billion-plus in assets.
In the chart below, you can see that Intel recently pulled back from its October highs…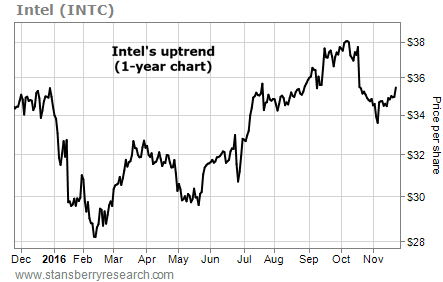 Intel is a great business trading at a good price. And it has recently become a guru favorite. Three of the best money managers now hold a combined $96 million worth of Intel shares.
It's likely a great time to open a position.
Good trading,
Ben Morris
[ad#stansberry-ps]
Source: Growth Stock Wire