The first seven months of this year were a dream come true for silver miners.
[ad#Google Adsense 336×280-IA]After a bear market in the sector that lasted almost five full years – causing silver prices to fall more than 70% from peak to trough – silver finally bottomed last December.
Then things went from "bad to less bad"…
And silver prices rose more than 50% from their December lows to early August.
But as regular Growth Stock Wire readers know, silver – like any other natural resource – is cyclical.
Sure enough, silver prices have pulled back…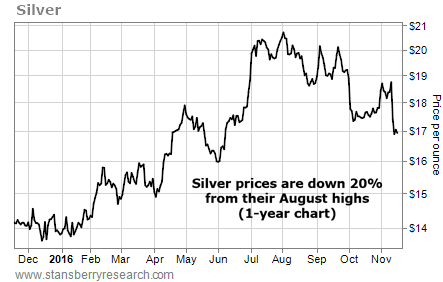 Today, I'll explain the important move these companies made during the last bear market that should lead to huge profits in the next several years…
I'm talking about cutting costs.
Silver companies cut staff, renegotiated contracts with suppliers, and re-engineered mines to keep their businesses afloat during the bear market in precious metals.
Let's look at three commonly traded silver miners – First Majestic Silver (AG), Hecla Mining (HL), and Pan American Silver (PAAS). These companies are three of the biggest publicly traded silver miners in the market.
As you can see in the table below, it cost these companies between $4.33 and $6.93 to produce an ounce of silver over the past 12 months…
That's great because it means they will be profitable as long as silver prices stay above $7 an ounce. But that doesn't mean it's a great time to buy these companies today.
You see, because of the recent downtrend in silver prices, investors have pulled their money out of these companies recently. Hecla Mining has dropped 15% over the past week or so… while First Majestic Silver and Pan American Silver have slid about 50% and 20%, respectively, from their August highs.
Until the price of silver reverses its downtrend of the past few months, it's best to hold off on buying these companies today. But the longer and deeper this slide goes, the more attractive these stocks will become.
Remember, they spent almost five years cutting costs during the bear market from 2011 through December 2015. When silver prices rally, these three companies will be some of the industry's biggest winners.
Good investing,
Matt Badiali
[ad#stansberry-ps]
Source: Growth Stock Wire