Last week's "best-looking trade setup in the market" exploded higher.
Copper prices rose almost 5% in just four trading days.
Here's an updated look at the chart of copper…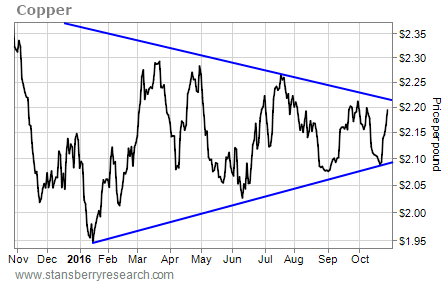 Buying copper last week as it tested the support of its consolidating triangle pattern was a low-risk trade. And as it turned out, it generated a solid profit in just one week.
But as good as that trade looked… I'm seeing a different trade setup right now that looks even better…
Check out this chart of wheat…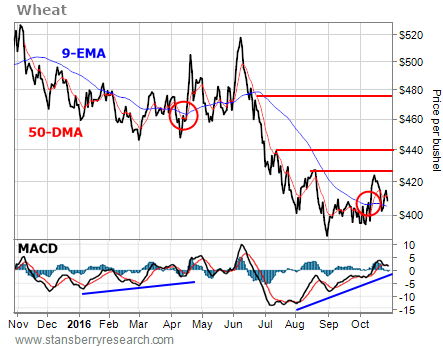 This chart displays the price of a one-month futures contract for 100 bushels of wheat. At Friday's closing price of $408.50, wheat is trading near its lowest price in 10 years. But some signs point to a reversal and a possible rally.
[ad#Google Adsense 336×280-IA]First off… notice the significant positive divergence on the moving average convergence divergence (MACD) momentum indicator.
As the price of wheat has been chopping back and forth in a low-level consolidation, the MACD indicator has been moving higher.
This is often an early warning sign of an impending rally.
Also, the nine-day exponential moving average line recently crossed above the 50-day moving average line.
This "bullish cross" often kicks off the start of an intermediate-term rally phase.
Look at the chart again… You'll notice we saw a similar setup back in mid-April. That setup marked a short-term bottom in the price. Wheat then went on to gain 11% over the next two months.
The current setup looks even better.
The positive divergence is stronger. The consolidation range is more compact – which increases the potential energy on a breakout of the trading range. And if wheat can rally above the resistance line at $440, it's a straight shot up to the next resistance level at about $475.
That would be a 16% gain from Friday's closing price.
On the other hand, if this chart breaks down, traders can exit the position if wheat trades below its recent low at about $393. That's just 3.8% of downside.
Just like copper last week, buying wheat right now is an excellent risk/reward setup.
Best regards and good trading,
Jeff Clark
[ad#stansberry-ps]
Source: Growth Stock Wire