"You don't want to own gold."
I wasn't sure if I could trust this long-haired stranger, but I had to hear what he said next.
"Why not?" I asked.
"Because the best returns will be in silver."
[ad#Google Adsense 336×280-IA]I was sitting at a bar in Montreal.
I was there for the annual Xplor conference held by the Quebec Mineral Exploration Association.
I found myself next to a jeweler named Armen.
He knows a thing or two about gold and silver.
Armen told me he expects silver to outperform gold going forward.
He made a compelling argument… But as always, it depends on the time frame.
One thing is certain… silver is more volatile than gold. As careful investors, we can take advantage of that volatility and the swings in valuation to make money…
Back in March, I told you that silver had just reached an extreme it had only seen four times since 1996. You could have bought more than 80 ounces of silver for the same price as one ounce of gold.
Since then, the price of silver is up roughly 14%, while gold has essentially been flat. When the ratio bottomed in mid-July, silver was up 31%. In that span, gold had gained 6%.
And it wasn't a smooth trip for silver. The precious metal rose to almost $18 per ounce before falling to $16. It then climbed to nearly $17.50 per ounce for a couple of weeks before jumping to more than $20.
On the other hand, gold doesn't move as much as silver. It's less volatile. And that's what gives investors the opportunity to profit from time to time. You see, silver's larger and more frequent moves allow focused investors to take advantage of temporary mispricing.
You can use the gold-to-silver ratio to monitor the relationship between the two precious metals. As you can see in the chart below, the ratio is trending upward again right now…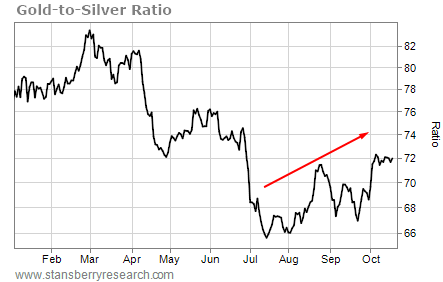 That's good news for silver investors. It means silver is getting cheaper relative to gold.
But it's not time to buy yet. If the ratio continues to climb toward 80 again, that would be a solid place to buy.
If you're looking for a higher-upside trade when silver reaches this level, consider putting your money in silver producers. Take a look at the following table for some of the big gains these companies have made since my essay in March…
And if you do buy the stocks, remember to use and follow your trailing stops. You can see the big moves these stocks have made since our essay, but they all peaked at higher levels before pulling back. Trailing stops allow you to lock in those gains and keep your dry powder handy so you can participate in the next uptick.
Like my jeweler friend Armen says, silver is a great place to make money… It will often outperform gold. And when the ratio hits an extreme again, the silver producers above should soar.
Good investing,
Brian Weepie
[ad#stansberry-ps]
Source: Growth Stock Wire