Last Monday, I appeared as a guest on CNBC World, where I was interviewed by hosts in Singapore and Seoul about Samsung Electronics Co. Ltd. (OTCMKTS: SSNLF) and the totally botched release-recall-discontinuation of its new Galaxy Note 7 smartphone. That's the phone that's been catching fire – and even forced the evacuation of a commercial flight prior to takeoff.
The CNBC hosts asked me what the financial impact would be if the company stopped selling its Galaxy Note 7 smartphone entirely (the company hadn't done so yet at the time).
[ad#Google Adsense 336×280-IA]I answered that it was impossible to know how big a charge against earnings the firm would take – though, clearly, it could run into the billions.
Now, a few days after the company discontinued the phone, we know this: Samsung investors saw the value of their South Korea-traded shares lose some $17 billion in value last Tuesday in what was the biggest single-day decline for this stock in eight years.
And Samsung itself says it expects to lose well over $5 billion in profit – about half of what it earned in 2015 – thanks to the debacle.
Oof…
I take no pleasure in Samsung's misfortunes. But as your guide to building wealth through tech investing, I want to show you a simple way to "short" this quality control challenged tech giant – and make some money for yourself.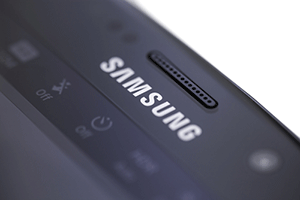 Take a look…
Still a "Tech Turkey"
Early this year, I put Samsung on a list of stocks to avoid in 2016. I called it a "Tech Turkey." And I said pretty much the same thing at the end of 2014.
But this is nothing "personal." Let me show you what I mean…
My wife and I did some remodeling on our home the last few months. As part of that, we upgraded a couple of kitchen appliances, including a Samsung stainless-steel refrigerator. And overall, it's been great.
Moreover, as I write this note to you, I'm looking at the two Samsung monitors that I also use for screening stocks. In all, we have six Samsung products in our home.
I mention all this so you know that I take no personal delight at all in Samsung's misfortunes.
After finishing up the kitchen, we moved on to the laundry area. You can imagine our surprise when our contractor told us to avoid buying Samsung, saying they were unreliable products.
Turns out, he was right…
The U.S. Consumer Product Safety Commission issued a warning last month about safety issues surrounding some of Samsung's top-loading washers. And a recently filed consumer lawsuit charges that heavy loads may cause the tub to become unfastened, resulting in a centrifugal explosion that can destroy the machine and anything next to it.
Then, I started hearing about the problems with the Note 7.
The recent release of the South Korean tech giant's flagship handset, the Galaxy Note 7, has been nothing short of an unmitigated disaster – and it just keeps getting worse.
Like I said, Samsung has now decided to stop selling the new phone completely because it can't seem to fix the problem that causes this phone to catch fire. I believe this will rank as the single biggest product failure in the short history of the smartphone.
It means the globe's largest cellphone maker will miss the crucial Christmas selling season here in the United States. In fact, it'll be skipping an entire product cycle in this highly competitive business.
Does that sound like a company you'd like to short?
Me, too.
Here's how you can do it…
The Samsung Short
To hear some on Wall Street and in Silicon Valley tell it, the recent release of the iPhone 7 from Apple Inc. (Nasdaq: AAPL) was something of a dud.
Yes, the gadget reviewers gave the new iPhone and its operating system upgrade high marks.
But plenty were quick to point out that – despite its water-resistance, fancy camera, and lack of a headphone jack – the 7 wasn't really a significant leap forward.
Plus, Samsung beat the iDevice King to the market with similar features.
So what?
Now, Apple can make this simple boast: Its iconic smartphone – the one that kicked off the entire sector back in June 2007 – is a great product that doesn't catch on fire.
By contrast, Samsung's quality-control issues have become a public relations disaster and an impending financial nightmare.
Apple maintains a reputation for building products with the highest level of quality. An obsession with using only the best suppliers began under the legendary Steve Jobs and continues to this day.
[ad#Google Adsense 336×280-IA]That's why millions of consumers snap up the company's phones, smart watches, TV set-top boxes, tablets, laptops, and PCs.
You simply cannot buy the kind of customer loyalty that Apple enjoys.
This attention to design, details, and quality are two big reasons why Apple is the world's most valuable tech firm, with a $631.28 billion market cap.
It also helps explain why Apple enjoys such high margins and strong cash flow.
It has operating margins of 28.5% and a return on stockholders equity just shy of 40%. Last year, it brought in roughly $43 billion in free cash flow.
To be sure, Apple has seen its iPhone sales growth slow. That's the chief reason why fiscal 2016 fourth-quarter earnings were off by nearly 27%.
Wall Street began dumping the stock because of lagging iPhone sales after years of record growth, which explains why the stock hit a 2016 closing low of $90.34 back in May.
But whenever I was asked about the stock, I said I saw Wall Street's panic as a new buying opportunity. And that's exactly how events have played out.
Since the stock began its post-Brexit rally on June 27, it has gained roughly 26.5%. By contrast, the S&P 500 is up 6.5%. That means Apple not only crushed Samsung on quality control, but also beat the broad market by some threefold over the period.
Thus, as you can see, Apple stock remains a great fundamental holding. It basically has a license to print money. It rakes in nearly $117 million in free cash flow every day of the year.
Not only does it also pay a roughly 2% dividend, Apple is one of the quality-centric firms where you can sleep at night – knowing that when its products catch fire, it's with its millions of rabidly loyal customers.
— Michael A. Robinson
[ad#mmpress]
Source: Money Morning