Investors often overlook the tech sector when trying to find the best dividend stocks. But according to Barron's, tech stocks now account for 15.6% of the S&P 500's dividends.
And we've found one investment that has the best dividend tech stocks all in one place.
Before we get to the investment, here's why the tech sector can no longer be ignored when looking for the best dividend stocks.
The median dividend payout among tech companies is now 2.5%, according to Money Morning Director of Tech & Venture Capital Michael A. Robinson. That's on par with some of the most famous blue-chip dividend stocks on the market. These consumer staple stocks are known for providing high dividend yields and safe returns, and now tech dividends are on that level.
Campbell Soup Co. (NYSE: CPB) pays a dividend yield of 2.06%
Colgate-Palmolive Co. (NYSE: CL) pays a dividend yield of 2.09%
Hershey Co. (NYSE: HSY) pays a dividend yield of 2.20%
Clorox Co. (NYSE: CLX) pays a dividend yield of 2.44%
Kellogg Co. (NYSE: K) pays a dividend yield of 2.51%
And tech stocks have been outperforming the broader markets on a share-price basis too…
So far in 2016, the World Internet Software/Services Index is up 8.9%. In comparison, the Dow Jones Industrial Average is up 6.62%.
"Even for younger investors, it pays to add Silicon Valley's budding dividend aristocrats to your core long-term holdings, because the compounding over time can be huge," Robinson said. "Dividends that are growing by 7% a year will double in a decade."
[ad#Google Adsense 336×280-IA]That dividend investing strategy can be even more lucrative when you reinvest dividends.
This is called a dividend reinvestment plan, or DRIP.
Here's how it works. Instead of just taking your dividend payouts in cash, you use these payments to slowly accumulate more shares of that stock.
"The best DRIP programs are often offered by companies with strong dividend payout histories – the ones that cater to long-term investors who tend to stick with stocks," Money Morning Executive Editor Bill Patalon said. "Most DRIPs let investors reinvest all dividends into more shares of a company, at little or no cost."
And Patalon says the power of compound dividends can make an initial investment worth millions.
"By plowing your dividends back into more shares, DRIPs make it easy to harness the power of 'compounding' – taking a smidgeon of capital and putting it to work," Patalon said.
Best of all, DRIP programs allow investors to buy shares directly from the company, rather than through a broker. That means you can avoid those hefty fees. This allows you to reinvest all your dividend payments into additional shares of the stock at no cost.
Investing $5,000 a year for 30 years could land you a nest egg of $5 million. If you purchase 50 shares a year and the stock costs $100, buying more shares through DRIPs for 30 years gives you close to 50,000 shares.
And by the 31st year of investing, you'd have more than $910,000 in cash dividends every year.
This isn't a new trend. Investors have seen higher returns through dividend reinvestment for over 100 years.
According to the book "Triumph of the Optimists: 101 Years of Global Investment Returns," a portfolio in the 20th century with dividends reinvested returned 85% more than similar portfolios that relied solely on capital gains.
If it wasn't before, the tech sector should be on your radar for the best dividend stocks in the market. And through this one simple investment, you will own all the best tech dividend stocks…
The Best Dividend Stocks in Tech for Long-Term Gains
Robinson calls the First Trust Nasdaq Technology Dividend Index Fund (NYSE Arca: TDIV) an "invest-and-forget it" profit producer.
Unlike a traditional tech stock, TDIV is an exchanged-traded fund (ETF) entirely composed of telecom and tech firms. Semiconductor firms make up 27.6% of the fund, software firms 15.4%, and telecoms 14%.
The diversity makes it one of the best dividend stocks to own. Its top five holdings are:
Intel Corp. (Nasdaq: INTC) pays a dividend yield of 2.98%
Microsoft Corp. (Nasdaq: MSFT) pays a dividend yield of 2.50%
Cisco Systems Inc. (Nasdaq: CSCO) pays a dividend yield of 3.43%
International Business Machines Corp. (NYSE: IBM) pays a dividend yield of 3.47%
Apple Inc. (Nasdaq: AAPL) pays a dividend yield of 2.08%
Over the last five years, TDIV has significantly outperformed the entire S&P 500 in terms of dividend yield. TDIV currently has a five-year dividend yield of 2.94%, while the S&P 500's yield is 1.98%, as you can see from the chart below.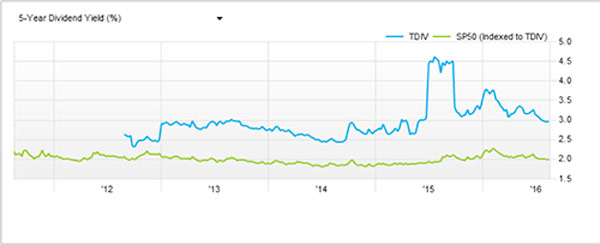 Source: FactSet
Since Robinson recommended TDIV to our readers on May 10, the share price has climbed 14%. During the same time, the Dow is up just 4.84%.
And because of TDIV's impressive quarterly dividends, there's a lot more room to profit from one of the best dividend stocks on the market…
Apple announced in April that it was raising its dividend by 10% to $0.57. This dividend increase allows TDIV to increase its own dividend yield, which allows shareholders to reinvest even more money into TDIV.
Robinson also points to how smaller firms help make TDIV's dividend yield climb.
Intuit Inc. (Nasdaq: INTU) has increased its dividend payout by 21% over the past three years and pays a dividend of $1.20 per share.
Qualcomm Inc. (Nasdaq: QCOM) has increased its dividend payout by 149% since 2011, now paying a dividend of $2.12 to shareholders.
"With this fund, you get to invest in good, old American innovation, which continues to lead the rest of the world," Robinson said. "And you get a nice, steady 'paycheck' to do so."
— Jack Delaney
[ad#mmpress]
Source: Money Morning