It's time to update one of our favorite recommendations – Ekso Bionics Holdings Inc. (Nasdaq: EKSO).
The company closed a $13.7 million common stock offering at $4 a share last week, and I'm very excited to see what's next.
So let's dive right in with a look at what's happening…
And what it means for your money.
Ekso's Total Addressable Market Dwarfs the Competition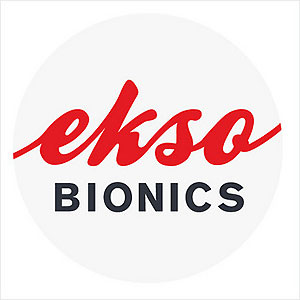 When I first recommended EKSO stock I did so based on a few key assumptions that the company would:
build upon the intellectual property it initially developed in 2005 then put to work as part of a U.S. DOD grant to develop the HULC™, a third-generation exoskeleton;
transition into medical device sales as a means of monetizing that knowledge as quickly as possible; and,
make a series of management and financial changes as it grew – each one of which would set up its next stage of growth.
At the time I told you that there would be key milestones that I would look to – no, scratch that – that I would have to see in order to merit our continued involvement.
[ad#Google Adsense 336×280-IA]I'm pleased to report that Ekso's hit every last one of 'em.
For example, the company has now moved way beyond the HULC™ suit and is working on industrial suits that will make high-frequency, long-duration, heavy-load jobs much easier and more efficient by taking strain off the human body.
Right now they're testing and working with a pilot program in BMW's Spartanburg plant, where the idea is to boost productivity and efficiency while lowering fatigue.
Eventually, BMW wants every worker to have his or her own vest if things go as planned.
That's not insignificant when you think about how many manufacturing applications there are around the world and in how many industries something like this could work. Estimates place the total addressable market at $96 billion within the next three to five years.
Naturally, there's going to be competition. However, Ekso now has 65 U.S. patents (26 issued, 30 in prosecution, and nine provisional) and 205 international patents (105 issued and 100 in prosecution) that amount to a serious head start.
Speaking of which, the company's Ekso GT product received FDA clearance for use with stroke and spinal cord injuries to C7 in April of this year.
I wrote to you at the time about why this was a big deal, and I cannot stress the competitive advantage this approval gives Ekso strongly enough.
The FDA clearance means that the Ekso GT is the only exoskeleton specifically cleared by the FDA for hemiplegia resulting from stroke, and the only exoskeleton cleared for spinal cord injury treatment and rehabilitation in the critical upper thoracic and cervical spine areas.
As you might imagine, dealing with a catastrophic injury is not simply a matter of putting on an "Iron Man" suit and going to the races.
That's why I'm exceptionally pleased to see Ekso continue to plow resources into something it calls "SmartAssist™," which is basically smart software that helps with load-shifting, transitional movement, and even dynamic power adjustments based on the person wearing it.
The software is so advanced that it's literally setting new standards for rehabilitation, which means that competitors are forced to play catch up if they want to keep up. Many won't be able to, and I expect that's going to result in still more market share for Ekso in the years ahead.
Practically speaking, what makes this so cool – and I don't use that word very often when it comes to investments – is that SmartAssist™ gives users, doctors, and therapists the ability to specifically power either side of a patient's body while also adjusting dynamically to user needs in real time.
So, for example, if you've had a stroke and the right side of your body is a little weaker, the software can help the suit adjust to your needs without being asked to do so. I've never seen anything more inspirational in my life and I've honestly struggled to find a way for you to see some of what I've seen as I've gotten to know Team Ekso.
As much as I've wanted to take you with me when I visit Ekso's offices, that hasn't been possible. But today I've got the next best thing in this just-published six-minute video from Toyota Innovation.
I'm asked all the time about how Ekso stacks up to the competition especially when it comes to competitors like ReWalk Robotics Ltd. (Nasdaq: RWLK), Cyberdyne Inc. (OTCMKTS: CYBQY), Bionik Laboratories Inc. (OTCMKTS: BNKL), and Rex Bionics Plc. (LON: RXB).
Let me show you.
The FDA approval means that Ekso now has an addressable patient population of 263,350 people annually, up from only 11,650 annually in the United States alone, according to CEO Tom Looby.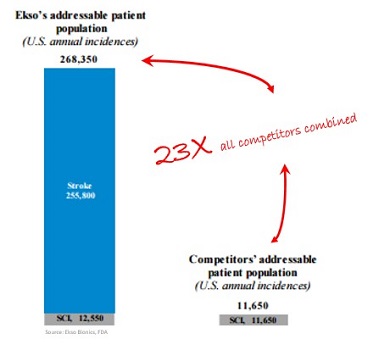 That means Ekso's addressable market is 23 times all other competitors combined.
What's more, the same FDA approval now means that the company can push full steam ahead into sales and marketing that had to be only on a "test" basis prior to approval.
Now, Ekso's still got a 12-18 months sales cycle, so that hasn't changed, but what I want you to understand is that the starting gun – the FDA approval – has just gone off.
But believe it or not, though, this isn't the really big news I want to call to your attention.
It's the just-closed financing that I want to address.
Small companies like Ekso have a tricky path to commercialization. Many investors like to believe that they show up with the widget du jour and sell billions of dollars of product overnight.
In reality, they've got to do three things in sequence: 1) prove their concept, 2) prove their marketing potential, and 3) obtain the financing needed graduate to the big leagues.
That's when the billions get rolling, and that's where Ekso is today.
The $13.7 million offering at $4 a share that closed this morning will be used for marketing, additional research, and initial commercialization of industrial products for able-bodied individuals that will need the same sort of proof-of-concept that the medical products are going through.
There are a few things that stand out to me here.
First, I like the fact that the financing is a clean deal and it strengthens the balance sheet. That's a big change from last December's financing.
Second, the company simultaneously uplisted to the Nasdaq. We knew this was likely and an important development that, as far as I'm concerned, is right on schedule.
That's because uplisting is like stepping up from a minor league ball club to the major leagues and very important because it opens the door to significantly larger financial arrangements down the line and institutional investors who would otherwise not be interested.
And third, CEO Tom Looby and his team are executing according to plan, and that means they're worth your continued attention because it makes Ekso very different from the many small companies I've seen go off the rails when management deviates from its strategy.
Speaking of which, I'm seeing a lot of grousing on the chat boards about Ekso's offering and why prices are dropping.
Pay no attention to those folks and, instead, pay attention to your history.
…Apple Inc. (Nasdaq: AAPL) did a secondary offering in May 1981 shortly after going public and its stock dropped 6% in days – 22,815% later, every $10,000 invested is worth $2.29 million today.
…Alphabet Inc. (Nasdaq: GOOGL) raised $4.18 billion in September 2005 with a secondary offering and its stock dropped 4% in days. Eleven years and 420% later, every $10,000 invested is worth $52,000 today.
Ekso's on the right track.
So are you.
— Keith Fitz-Gerald
[ad#mmpress]
Source: Money Morning