The fact that many companies regularly increase their dividend rates is the true power of a dividend income focused investing strategy.
The market ignores dividends in the short to intermediate term, but over a period of years, a growing dividend rate will usually produce an increasing share value to match the dividend growth.
However, the market does get excited when a dividend increase is announced.
You can take advantage of this excitement by buying shares of a stock several weeks before a new, higher dividend rate announcement.
[ad#Google Adsense 336×280-IA]Most real estate investment trusts (REITs) that have histories of growing dividends announce a new higher rate once a year, and then pay that new rate for the next four quarters.
The timing of dividend increases is not data that you can easily find in from public information sources.
I have developed my own REIT database that I use to track yields and dividend growth rates on about 140 REIT companies.
I also track in what month each REIT typically announces a new higher dividend. From the full list of REITs, the increase announcements come in almost every month of the year. For September, the list of expected increases is small –just three stocks– but it is a very interesting group of stocks.
To make some extra gains from these stocks you want to purchase shares a few weeks before the announcement of a higher dividend rate. The market tends to bid up share values when the news is released, which can give you a nice share price bump as well as a higher yield going forward. Here are three stocks that you should consider buying in mid-August to get ahead of the September dividend announcement.
Here are three stocks that you should consider buying in mid-August to get ahead of the September dividend announcement.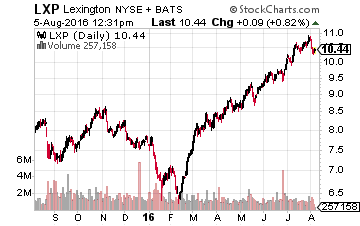 Lexington Realty Trust (NYSE: LXP) is a net lease REIT that owns a diversified portfolio of office, industrial, multi-tenant and retail properties.
Lexington separates itself from the rest of the REIT sector by doing more "build-to-suit" projects than the typical net lease REIT.
Most of the company's peers grow by buying existing properties and leasing them back to the former owners.
The build-to-suit business model generates higher earnings rates on properties, but it takes longer to earn that higher rate from invested capital.
Because of the delay in generating cash flow from new projects and some readjustments in its portfolio mix, Lexington Realty Trust has not announced a dividend increase since 2014. For the first half of 2016 funds from operations (FFO) per share, the cash used to pay dividends, is up nicely compared to a year earlier.
The current dividend rate is 63% of LXP's FFO per share, compared to an average 74% payout by the other net lease REITs. A 10% dividend increase is possible with the next dividend announcement. LXP will announce its next quarterly dividend in mid-September with an end of the month record date and payment in mid-October.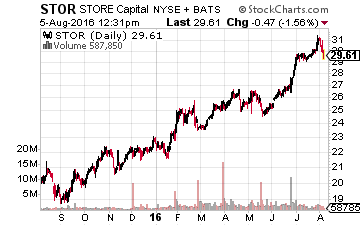 STORE Capital Corp (NYSE: STOR) is a net lease REIT that came to market with a November 2014 IPO.
The company's business model is to help businesses unlock the value in their real estate with a sale to STORE and then leasing back the property's transactions.
This is an aggressively growing REIT, investing about $100 million per month in new sale-leaseback property purchases.
Last year, after three quarters as a public company, STORE increased its dividend by 8%. The current dividend has been paid for four quarters, so a new rate should be announced in September. The current dividend is 67% of FFO per share and I expect a 6% to 8% increase this year. The next dividend will be announced in mid-September with an end of September record date and payment in October.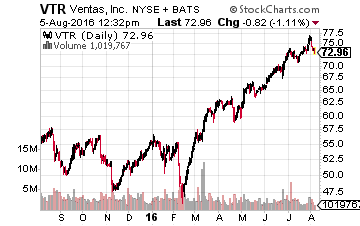 Ventas, Inc. (NYSE: VTR) is one of the largest and financially strongest of the healthcare sector REITs.
Historically, Ventas has grown its dividend by 8% to 9% per year.
Last year at about this time, the company spun-off the majority of its skilled nursing properties into a new company, Care Capital Properties Inc. (NYSE: CCP).
Cash flow and the ongoing dividend was split between VTR and CCP, so the VTR shares have paid a lower dividend rate for the last four quarters.
Over the last year, Ventas has aggressively purchased healthcare properties including hospitals and medical office buildings. A new, higher dividend could be (I believe should be) included with the next dividend announcement. That announcement will come in early September, with a mid-month record date and payment at the end of the month.
This type of research into high-yield income stocks has become a specialty of mine, and I make it a habit of only hunting down and recommending the most stable companies that regularly increase their dividends.
This is the strategy that I use most often to produce superior results, no matter if the market moves up or down in the shorter term. The combination of a high yield and regular dividend growth is what has given me the most consistent gains out of any strategy that I have tried over my decades-long investing career.
— Tim Plaehn
[ad#ia-tim]
Source: Investors Alley