You probably don't think about zinc on a daily basis.
But in reality, the mineral has a lot of everyday uses.
Adding zinc to steel or iron prevents rusting… Zinc oxide is used in paint… Brass is a combination of copper and zinc… And today, the U.S. penny is made mostly of zinc.
[ad#Google Adsense 336×280-IA]Although you might not give much thought to zinc, investors should be paying close attention to the mineral right now.
You see, there's a shortage of it around the world.
And that's creating a tremendous opportunity today…
Mining and metals firm CRU Consulting expects we will consume 1.2 million more metric tons of zinc than we'll produce this year.
And as we've seen through the first seven months of this year, that deficit has caused the price to rise steadily…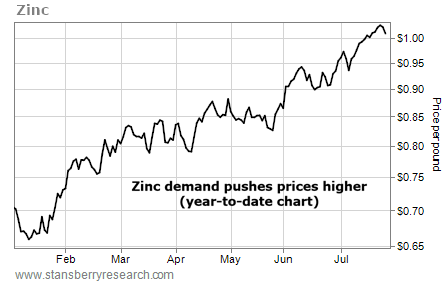 Plus, the sector has been consolidating in recent years. Some of the world's most productive zinc mines have been shut down recently. Australia's largest open-pit mine, Century, ran out. It did its final mining and production in the second half of last year and shipped its final barge in January.
Zinc prices fell almost 40% – from around $1.10 a pound in May 2015 to just $0.66 a pound in January. That persuaded zinc-producing giant Glencore (GLEN.L) to announce that it would cut one-third – 500,000 metric tons – of its annual production.
And in recent years, there have been initiatives put in place to get people to consume more zinc. It is one of the most common nutrient deficiencies in the world.
Much of the land used for growing crops in China, India, and Africa is very low in zinc. Because of that, China officially promoted the use of zinc fertilizer for its crops beginning in 2012 as a way to aid plant growth and quality.
The effort has been a success. China's use of zinc fertilizer increased 50% (to 60,000 metric tons) in 2015. This increased crop yields by 7%. A similar program recently launched in the Democratic Republic of the Congo.
Overall, zinc usage has increased 30% since 2004. It has risen every year except two over that period.
These supply-demand dynamics have already helped the prices of certain zinc producers. Canada-based Trevali Mining (TV.TO), for example, just started mining zinc at its Caribou mine in New Brunswick. Its share price is up more than 150% from its low this year.
But some haven't risen as much yet. That's our opportunity.
Copper-zinc producer Nevsun Resources (NSU) recently completed a zinc plant on time and under budget. The company has 2.6 billion pounds of zinc reserves. Once it starts shipping zinc in August, Nevsun should benefit from the uptick in the price.
Nevsun has a great balance sheet. The company has $225 million in cash (more than $1 per share), has no debt, and pays a 5.3% yield. Its share price has pulled back 13% since mid-May. That's because Nevsun bought a company with a major copper-gold project in Serbia. The market wants to see how it will digest the acquisition and move the project forward.
The recent price weakness has given us an opportunity to acquire two world-class assets at a solid price. Take a look at shares of Nevsun Resources today.
Good investing,
Brian Weepie
[ad#stansberry-ps]
Source: Growth Stock Wire