You wouldn't know it from looking at prices…
But a massive rally is taking place right now in natural gas stocks.
And even though we still have too much natural gas in storage, a big change in production could give this rally even more upside.
Let me explain…
[ad#Google Adsense 336×280-IA]Last month, we set a record for natural gas in storage, with 2.6 trillion cubic feet sitting in giant caverns, just waiting to be used.
That's enough natural gas to meet all demand for more than a month… without any additional production.
But the thing is, we're producing another 2.7 trillion cubic feet every month.
In other words, we have an abundance of natural gas.
And as you know, when supply exceeds demand, prices fall.
You can see what has happened to natural gas prices in the chart below…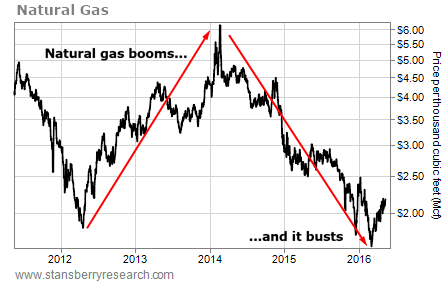 In early March, natural gas prices bottomed at $1.58 per thousand cubic feet (Mcf). That's the lowest price since 1999.
The chart shows the full cycle of natural gas prices. They bottomed in 2012 at $1.77 per Mcf, then soared to more than $6.25 per Mcf in January 2014 – a 253% move in less than two years.
Interestingly enough, 2012 was also the last time we saw spring natural gas volumes near what they are today. In May 2012, we had a record 2.7 trillion cubic feet of natural gas in storage.
There is a good chance we're seeing a repeat of 2012. As we often say, the cure for low prices is low prices.
What's interesting is natural gas producers have ripped higher since bottoming on December 15. You can see those huge moves in the following table:
While not all the natural gas stocks soared, the good ones – like the companies above – did. It's tough for companies to make a profit with natural gas prices so low. But the companies that were able to profit in this environment rocketed up as soon as natural gas prices started to move higher. Moves of 50%, 100%, or more are HUGE in just five months… and that could continue.
You see, natural gas production is on the decline. According to the Energy Information Administration, daily U.S. natural gas production fell 1.5% in March and another 1% in April. April production was 1% lower than the same period of 2015.
Of course, falling production will help prices. We saw something like this in 2012. Production peaked at the end of the year, then began to decline slightly… which was enough to send prices soaring higher. That's the setup we have right now in natural gas.
While some of that optimism is priced into those stocks already, the trend is in our favor. We're considering recommending natural gas producers to my Stansberry Resource Report subscribers. They should be on your radar, too.
Good investing,
Matt Badiali
[ad#stansberry-ps]
Source: Growth Stock Wire