The U.S. dollar is on life support.
The buck sold off hard last week when the Federal Open Market Committee (FOMC) announced it would leave interest rates unchanged.
[ad#Google Adsense 336×280-IA]After that decision, the Bank of Japan also left rates alone… which surprised a market that was expecting lower interest rates.
As a result, the yen rallied and the dollar fell further.
And we're now sitting at a key point for the U.S. dollar. The next few weeks could tell us a lot about its long-term future…
The U.S. Dollar Index ended last week down 1.6%… and sitting right on a critical support line.
Take a look at this one-year chart…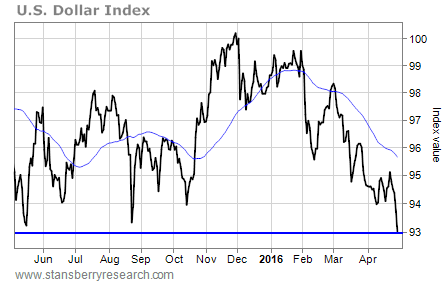 At around 92.60, the U.S. Dollar Index is trading at its lowest level of the year. And it's testing the support line connecting the lows from last May and last August.
The index is now about 3% below its 50-day moving average (DMA) line. That's about as far as the dollar usually strays from its 50-DMA before reversing back toward the line. So traders ought to be looking for a short-term bounce in the dollar to get started soon.
But the longer-term picture is ominous…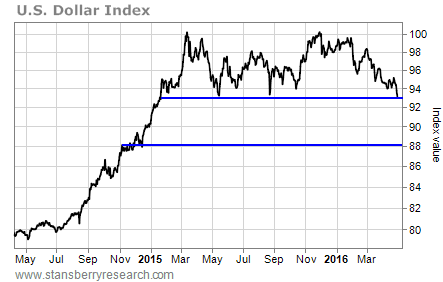 This is one of the most vulnerable-looking charts in the market.
If the dollar index can't bounce off the 93 level – or if the bounce is weak and the index rolls back over – the buck will head toward the next support line, which is down around 88.
That's less than a 6% drop from Friday's closing price, which wouldn't be a big deal if we were talking about a stock. But a 6% move in a currency is huge.
That sort of a move would send the prices of precious metals and other commodities much higher. In fact, it is likely the expected breakdown in this U.S. Dollar Index chart that has prompted buying in gold, silver, oil, and agricultural commodities over the past few weeks.
Now, though, the buck looks poised for a short-term bounce off its support line and back up toward its 50-DMA. If that happens, commodity prices are likely to give back some of their recent short-term gains.
But keep an eye on the U.S. Dollar Index chart over the next few weeks.
Once any short-term bounce ends – or once the chart breaks decisively below the 93 level – it looks like the buck will be headed much lower.
Best regards and good trading,
Jeff Clark
[ad#stansberry-ps]
Source: Growth Stock Wire