The property market drives the stock market in Hong Kong…
This is very different from the U.S., where technology, health care, and financials make up a large portion of the stock market. In Hong Kong, property is king.
When property booms, Hong Kong booms.
[ad#Google Adsense 336×280-IA]This is important because Hong Kong residential sales just hit a 25-year low.
And based on history, this could lead to a huge rally in Hong Kong's stock market.
Gains of 53% in two years are possible, starting now.
Here are the details…
As I mentioned, Hong Kong residential property sales have been down… big.
The number of unit sales just hit its lowest level since 1996. It's down an incredible 70% in the past year.
Take a look…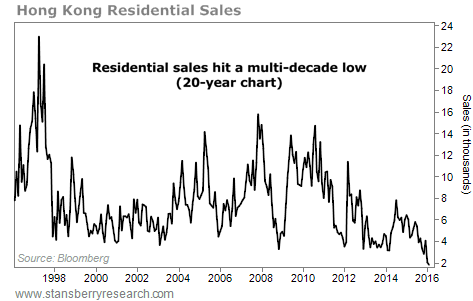 If property is so important to Hong Kong's stock market… and property sales have crashed… you may think now would be a horrible time to invest in Hong Kong's stock market. But you'd be wrong…
We always look for contrarian opportunities. And this is exactly that, based on history.
Property sales are down 70% since this time last year. We've only seen five other 70%-plus one-year declines in the past 25 years. And we've seen 17 total 60%-plus one-year declines. But buying after a 60%-plus decline has been a winning strategy. Specifically, it tends to signal major long-term buying opportunities in the Hong Kong stock market.
Take a look at the returns (since 1996)…
With today's setup, history shows that Hong Kong's stock market averages 27% gains over the next year, and 53% gains over the next two years.
Importantly, Hong Kong's stock market is moving in the right direction. The iShares MSCI Hong Kong Fund (EWH) is up 15% in a little over a month.
We can't know for sure if this is the start of a major move. But history says that major property sales declines could lead to further gains.
Shares of EWH are the easiest way to capitalize on this idea. Check 'em out.
Good investing,
Steve
[ad#stansberry-ps]
Source: Daily Wealth