Bill Ackman is supposed to be the best of the best, the brightest of the bright…
He graduated magna cum laude – from Harvard. He also earned his MBA at Harvard. Today he is a famous hedge-fund manager.
But last week, he lost $1 billion – in one day – in one stock – for his investors.
[ad#Google Adsense 336×280-IA]The thing is, he should have never been in this position… If he had followed a simple trailing stop to limit his risk, he would have taken profits.
Instead, one of the smartest people on the planet held on… and hoped.
Are you guilty of holding on and hoping, like Ackman?
Or are you smart enough to never let a small loss become a big one?
This is the most important question… one you have to get right in today's market…
The stock Ackman lost $1 billion on in one day is pharmaceutical firm Valeant Pharmaceuticals (VRX).
The stock peaked in August at more than $260 a share. Today, the stock is around $28 – a near-90% fall.
Ackman held the stock from the peak – all the way down.
He is still holding it. Too bad for his investors.
If he had used a simple trailing stop – like we recommend all the time in DailyWealth – he could have made money.
Take a look at the chart below – the blue line is a simple, wide "trailing stop" level. As you can see, this line goes higher as the stock makes new highs. Based on this, Ackman would have been out around $190 if he used a trailing stop… instead of still in today around $28.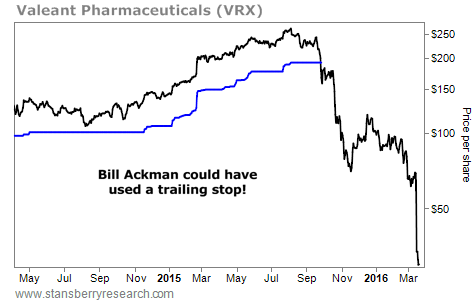 Instead of using a trailing stop – and protecting his investors' money – Ackman rode the stock all the way down.
Why do something so foolish?
It could be that Ackman wanted to prove that he was right… more than he wanted to protect the investor money entrusted to him.
And still, he won't give up…
We continue to believe that the value of the underlying business franchises are worth multiples of the current market price," he told his investors about Valeant in a letter last week. "We are going to take a much more proactive role at the company to protect and maximize the value of our investment.
Translation: "I'm digging my heels in."
Ackman has a history of digging his heels in…
When he told Bloomberg TV in 2013 that he was down "$400 million to $500 million" on his bet against nutrition and weight-management company Herbalife (HLF), he told the reporter that he was going to stick with this trade "to the end of the earth."
And there are similar stories in his history… with retailers JC Penney (JCP) and Target (TGT).
You and I might not beat Ackman in an I.Q. test – but we should be able to beat him in the markets…
You must be smarter with your money than Ackman… and limit the impact of your bad decisions to small losses.
Limit your downside risk… and don't ever make an excuse that you are smarter "in just this one trade." There is no excuse.
Good investing,
Steve
[ad#stansberry-ps]
Source: Daily Wealth