At the start of this year, you would have earned just 0.63% interest on 10-year government bonds in Germany…
Sounds bad, right?
It gets worse…
[ad#Google Adsense 336×280-IA]Today, these bonds pay just 0.29% interest. (It's a good thing we're not retirees in Germany!)
Still, this ultra-low interest rate actually creates an opportunity… in Europe's stock market…
You see, the "spread" between 10-year German bond yields and the European stock market dividend yield is at an extreme.
Based on history, we will likely see big gains in European stocks as this extreme reverses.
Let me explain…
The "spread" is a simple concept. It's just the current dividend yield on European stocks minus the 10-year German bond yield.
The chart below offers a simple visual. Take a look…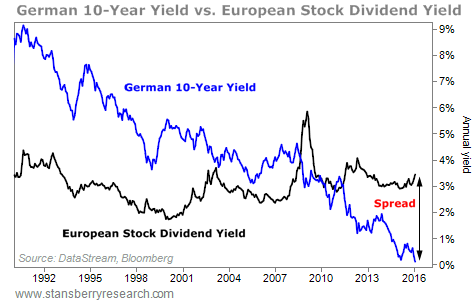 German 10-year bonds actually have a history of paying higher rates than European stocks, as the chart above shows. But that's not the case today…
European stocks have never paid higher dividends – relative to the yield on 10-year German bonds – than they do right now. Remember, German bond yields have crashed in 2016… while European stock dividend yields have increased.
The chart below shows this simple spread. You can easily see how extreme the situation is right now…
European stocks now pay roughly 3.3% a year more than 10-year German bonds. Again, that's the largest spread we've ever seen.
Importantly, when this spread peaks and begins to fall, European stocks tend to soar. The table below shows this.
Specifically it shows every time the spread hit a new high and then fell by 0.5%. These were great buying opportunities. Take a look…
This is rare. It has only happened seven times since 1990. But these were great opportunities to buy European stocks.
The average six-month gain was 15%, and average two-year gains were 38%. Those are serious returns!
The catch is that this isn't a buy just yet. This spread just hit a new high. So we need to see it decline – to roughly 2.5% – before it signals a buy on European stocks.
This could happen if European stocks rise (causing dividend yields to fall), or if German bond yields rise.
I suggest watching both closely. And consider buying when the spread falls below 2.5%.
Good investing,
Steve
[ad#stansberry-ps]
Source: Daily Wealth