Gold is up… And it could go up a lot more…
A gain of 16% to 19% over the next year is entirely possible, based on history.
Let me explain…
[ad#Google Adsense 336×280-IA]Yesterday, I told you about the buying opportunity that just appeared in the
Japanese yen
.
The story for gold today is nearly identical – but the potential gains are much bigger.
The yen has three things in its favor:
1. It has fallen dramatically since 2011,
2. It has jumped recently in a short period, and
3. It's "up" over the last 12 months, for the first time in years.
These last two things had led to great returns over the NEXT 12 months, based on history.
Gold is in almost the same situation as the yen – but as I said, the upside is much greater…
From its peak in 2011 to its trough in December 2015, gold fell 37%. But since then, it has clearly "broken out."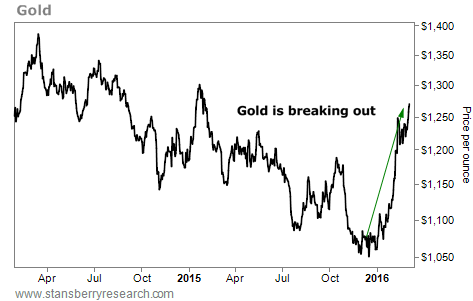 This breakout comes thanks to that big 8% gain in January… and another 11% gain in February. But monthly gains of that size are rare.
This has only happened 7% of the time, going back to 1975. Importantly, this extreme monthly move is a good thing for gold prices going forward… The table below shows the full details…
More than 40 years of history show that when gold climbs 8% or more in just one month, it tends to outperform going forward. And that outperformance is consistent, regardless of the time frame.
[ad#Google Adsense 336×280-IA]Importantly, based on the extraordinary performance in January, gold could deliver a gain of up to 19% over the next year.
Like the Japanese yen yesterday, it's not just the one-month move that's important…
Gold is actually "up" over the last 12 months.
This is big news.
A positive 12-month stretch in gold returns has been tough to come by… Since the end of 2012, only two months showed positive 12-month trailing returns (out of 36 possible months) – until 2016.
Again, like the yen, gold does extremely well after a positive 12-month performance. Take a look:
Specifically, this is the performance of gold in the month AFTER a positive 12-month gain, annualized.
In short, you want to own gold, now.
Yes, gold has done well… but based on history – these solid recent gains tell us that we could have more to come.
Good investing,
Brett Eversole
[ad#stansberry-ps]
Source: Daily Wealth