There's the silver level… the gold level… and then what?
You tell me… What level is above gold?
[ad#Google Adsense 336×280-IA]You already know it… From Obamacare to your frequent flyer miles, the level above gold is platinum.
So here's a question for you: If silver is at $12 an ounce, and gold is at $1,200 an ounce, how much should platinum be? (Those aren't the real prices – it's a hypothetical question.)
My middle-school-aged daughter answered quickly… "Add two zeros – $120,000 an ounce!"
Actually, here's where we are today…
Today, platinum is at a $250-plus discount to gold (roughly):
• Silver: about $15 an ounce
• Gold: about $1,200 an ounce
• Platinum: about $925 an ounce
How could this be? Platinum is supposed to be worth more than gold – it's harder to get out of the ground, and more "exclusive" in the jewelry stores.
Normally, that's true… But today, it is not. These days, platinum is trading at its biggest discount to gold ever. Take a look: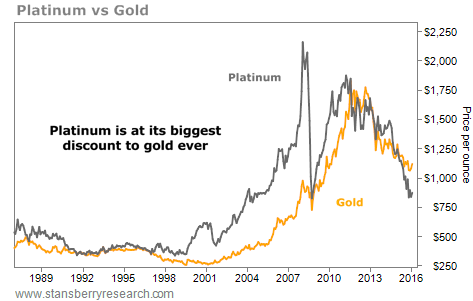 This massive discount creates a potentially huge opportunity for us…
The few times in the past that the price of platinum traded at a discount to the price of gold, platinum prices outperformed going forward…
Two points highlight how platinum has performed after platinum prices became cheaper than gold prices:
1. Platinum outperformed gold by eight percentage points over the next 12 months, on average.
​
2. Once it dipped to a discount to gold, platinum NEVER underperformed gold 18 months later.
Today's platinum discount is not just any discount… It's a discount of more than 20%. We have never seen a discount this wide in history.
It is a true extreme for platinum. Did you ever think you'd see the day when platinum – the "Rolls-Royce" of precious metals – would be worth so much less than gold?
What's going on here?
Platinum has been falling in line with the commodities market. Take a look: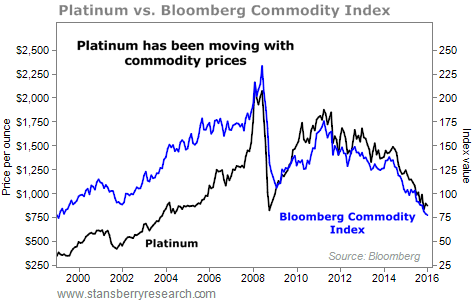 Platinum has been acting more like a commodity than a precious metal in recent years. You see, unlike gold, platinum has a real industrial use, so it's affected by economic cycles.
Platinum is mainly used in cars… If the world doesn't need as many cars, we don't use as much platinum. Importantly, like oil, producers keep producing platinum even though prices are low.
In mid-January, investors had given up on it (judging by both the size of the bets in the futures markets and the shares outstanding of the leading platinum exchange-traded fund – the ETFS Physical Platinum Shares, or PPLT).
Investors "giving up" is good – it typically means the bottom is near.
So in the latest issue of my True Wealth newsletter, which went out in mid-January, I recommended buying platinum through ETFS Physical Platinum Shares (PPLT).
Our timing couldn't have been better. PPLT dipped below $80 at that time – and now it's at nearly $90, as I write. My subscribers are up 11% in three weeks.
You haven't missed it yet, though…
Gold is up over the last month, too – so platinum's record discount to gold is still in place.
Remember, platinum has never underperformed gold in any 18-month period after it traded at a discount to gold.
And now is an even less risky time to buy platinum than when I recommended it three weeks ago… Today, platinum has all the components of a perfect investment… It is 1) CHEAP, 2) HATED, and 3) IN AN UPTREND.
It's a great setup. Consider buying platinum today, if you haven't already.
Good investing,
Steve
Sponsored Link: Like I said, True Wealth subscribers are already up 11% on platinum in just three weeks. But that wasn't the only big opportunity I wrote about in the February issue… I also recommended a speculative trade with 30% upside over the next 12 months. You can access this recommendation – and all of my research – with a risk-free trial subscription to True Wealth. Click here to learn more.
Source: Daily Wealth