It was a great effort… but it wasn't enough.
The S&P 500 rallied 120 points in the final seven trading days of January. That's a tremendous move in a short period. But it wasn't enough to keep the index from ending the month below its 20-month exponential moving average (EMA).
So as I explained a couple weeks ago, we're officially in a bear market…
Here's an updated look at the long-term chart of the S&P 500…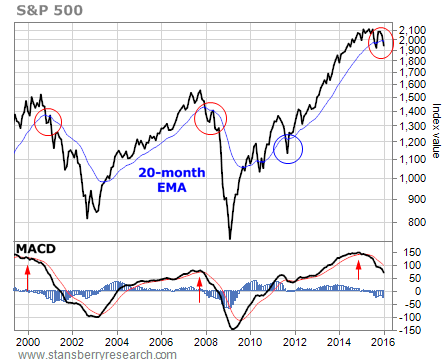 This is a simple chart to read. If the index ends the month above its 20-month EMA, then stocks are in a bull market. If the index closes the month below the line, then the bear is in charge.
[ad#Google Adsense 336×280-IA]The moving average convergence divergence (MACD) indicator on the bottom is an early warning sign.
It turned lower from extremely overbought levels in 2000 and 2007, a few months before the market turned bearish back then.
It also turned lower last May – which gave us an early warning sign for the situation we're facing today.
(It's worth noting that when the S&P 500 closed below the line in late 2011, the MACD was not extremely overbought. The market reversed the next month and the bull market continued.)
If we use this chart as a roadmap for where the stock market is headed this year, then things are going to be rough. Stock prices are likely to be much lower at the end of the year than where they are today.
That doesn't mean you should sell everything and hibernate for the next several months. Some stocks will still perform well despite a bearish stock market. And short-term traders will have plenty of chances to profit by buying stocks in extremely oversold conditions like we had two weeks ago.
Just don't overstay your welcome. Be willing to take profits quickly. Use the oversold rallies – like the one we just experienced – as a chance to add a short trade or two. And be sure to read the essay I wrote in October titled "How to Trade a Bear Market."
It's not a "buy and hold" environment anymore. Bear markets are for scalping quick trades. Learn how to do that, and 2016 could be a hugely profitable year no matter what the broad stock market does.
Best regards and good trading,
Jeff Clark
[ad#stansberry-ps]
Source: Growth Stock Wire