As you might expect, my email's been flooded with all kinds of questions, comments, and observations since the markets began their 7% slide downward in earnest.
Most are pretty straightforward – oil, the sell-off, China, Social Security, and more – but a number of them deal with our favorite Human Augmentation recommendation, Ekso Bionics Holdings Inc. (OTCMKTS: EKSO).
One, in particular, was exceptionally blunt…
[ad#Google Adsense 336×280-IA]…have we backed the wrong horse?
Nope.
Here's how Ekso stock could lead to 2,000% gains for patient investors.
It's Better to Be Early and Patient Than Sell in Frustration
Growing up I was a huge fan of the show "Kung Fu," starring David Carradine as a half-American, half-Chinese man wandering the Old West after receiving training as a Shaolin monk in China.
Nearly every episode included "flashbacks" featuring his training at the hands of a blind monk named Master Po revealing wisdom in all forms. Always yearning for more, the lessons frequently included a kindly admonishment from the Master to an overly eager Carradine – "patience, young grasshopper."
Ekso's a lot like that.
I know the markets have been rough, but it's totally illogical to expect a tiny company like Ekso to skyrocket when there's been a global margin call that's culled more than $15 trillion from the major indices.
In the words of Master Po, patience.
Let me tell you a story about a penny stock that languished for years even as investors called into question its products, its competitors, and its potential.
The company I want to highlight traded in an even lower range of just $0.20 to $0.35 from 1999 to mid-2003. Nobody thought it was worth a proverbial hill of beans. Reports at the time were anything but glowing.
Then, this particular company made a crucial pivot.
Executives began looking at one of our Unstoppable Trends – Demographics – in much the same way Ekso executives view the potential for Human Augmentation using exoskeletons.
And, as a result, they made a series of carefully calculated bets that were well rewarded. Product demand grew by more than 5,000% from 2000-2014, and product sales in their sector rose 723%, from $3.8 billion to $27.5 billion in 2014.
Not surprisingly, the stock went along for the ride. Today it's returned more than 100,000%.
Can you guess which former penny stock I'm talking about?
Here's a hint.
It's a media darling and it closed [Monday] at $140.09 a share…
…Monster Beverage Corp. (Nasdaq: MNST)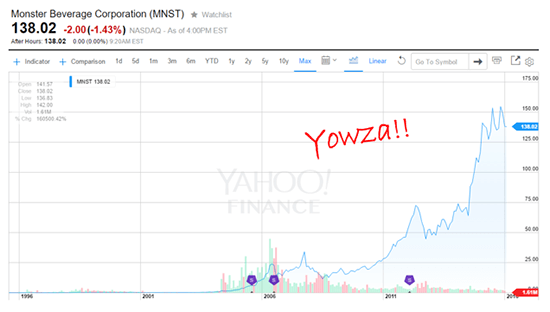 I could tell you dozens of similar stories about dozens of once tiny, unknown, and insignificant stocks, but that'd probably be overkill.
My point is that months or even years of stagnation don't preclude a stock like Ekso from pulling off monster returns – pun absolutely intended.
Following the Footsteps of Its Penny Stock Predecessors
Like Monster Beverage, Ekso has tapped into an Unstoppable Trend in such a way that most investors don't yet recognize the upside potential. And that's your entry.
I like that because the numbers can quietly continue to build up even as the price remains lower, giving savvy investors the chance to accumulate shares before the herd piles in.
People forget that Monster Beverage Corp.'s gross profit in 2003 rose only 16% from 2002… right before it almost tripled from 2003 to 2005. By comparison, Ekso's revenue rose 84% year over year, according to the company's last report, and the quarter before than it jumped by 74%. Medical device segment revenue was up 55%, and engineering revenue up 100%.
Not too many analysts saw the 5,000% swell in energy drink demand that propelled MNST, so they were caught flat-footed when it exploded. But in this case, you've known for at least two years that the boom in Human Augmentation is just in its early stages because I've been telling you about it.
Now other analysts and research firms are waking up to the potential.
MarketsandMarkets issued a forecast in February 2015 projecting that the human augmentation sector will grow from $93.5 million in 2013 to $1.135 billion by 2020 – a continued annual growth rate of 43.5%.
WinterGreen Research's take, released last month, is even more bullish, projecting the sector to grow to $2.1 billion by 2021.
ABI Research is somewhere in the middle, with a $1.8 billion forecast by 2025. That would mean 39% growth for the sector each year for the next eight years. That's still a 2,457% gain for the industry.
It's impossible to know which of these firms will prove to be the most accurate. What's important is that they all project astronomical growth.
Keep in mind that the growth isn't linear and it won't happen all at once. The human augmentation market won't grow 39% in 2016, then 39% in 2017, and then 39% in 2018 again.
If it follows the trajectory of other technological revolutions like cloud computing, it's more likely to grow at low double digits for the next couple years… then take off after a few more strong quarters of double-digit growth that force Wall Street analysts to perk up.
Speaking of which, I've had a number of emails from concerned readers who have picked up on headway being made by a few of Ekso's rivals, including, in particular, ReWalk Robotics Ltd. (Nasdaq: RWLK).
The company gained Veterans Administration approval for use in helping paralyzed veterans walk again, and the stock tripled as a result. Even so, it's still down 70% since I passed up on recommending it in favor of Ekso.
Others were concerned by a recent $15 million financing round on Ekso because the stock dropped on fears related to dilution.
I hear that a lot and it always makes my eyebrows shoot up, especially when it's a smaller, hungry, aggressive company in play like Ekso.
Investors have the strange notion that a business has to grow organically or it isn't worth beans when, in reality, it's external financing like this that makes incremental opportunity possible.
Nobody batted an eye, for example, when Apple sold $6.5 billion worth of bonds to buy back stock, pay dividends, and retire debt… despite the fact that it had $178 billion in cash and a record-breaking $18 billion in profits during last year's holiday season.
It's all about perception.
At the end of the day, there's a lot of impressive innovation going on in the Human Augmentation space. That's particularly important when it comes to Ekso because – to paraphrase an old proverb – a rising tide floats all boats.
That was the case with cloud computing, which helped propel Alphabet Inc. (Nasdaq: GOOG, GOOGL), Amazon.com Inc. (Nasdaq: AMZN), and Microsoft Corp. (Nasdaq: MSFT) to new highs over the last few years despite the fact that none of them even came closer to dominating the market than Amazon's 30% market share.
You may agree with me or you may not. You may prefer ReWalk over Ekso. That's perfectly okay.
There's plenty of potential when it comes to Human Augmentation, and the fact that almost nobody other than us sees it at the moment suggests some extraordinary returns ahead.
But only if you're patient, "grasshopper."
— Keith Fitz-Gerald
[ad#mmpress]
Source: Money Morning