For just the second time since 1985, platinum is "on sale"…
Over the past 40 years, platinum has traditionally cost 30% more per ounce than its precious metals cousin, gold.
When it trades at a 10%-plus discount to gold prices, it becomes a great investment. And that's exactly what we're seeing today…
[ad#Google Adsense 336×280-IA]Like gold, platinum is used in jewelry and coins as a way to store wealth. But unlike gold, platinum is exceedingly tough. It doesn't scratch or bend like gold does. (That's why I wear a platinum wedding band.)
Because of its durability, platinum has a few industrial uses, too – mainly as a catalyst.
It speeds up chemical reactions, which is a huge help for chemists and petroleum refiners.
According to the World Platinum Investment Council, the petroleum-refining industry consumes about 40% of annual platinum production. Jewelry accounts for another 35% or so, while other industrial uses and investments account for the rest.
Industrial demand – particularly in the oil sector – makes platinum less popular than gold, which is solely seen as a form of money. Because the oil industry is in terrible shape today, platinum demand is on the decline. That has pushed prices of platinum (and palladium, another industrial precious metal) lower. Right now, you can buy platinum at a substantial 22% discount to the price of gold.
Over the past 40 years, that has only happened three other times – in 1982, 1985, and 2012. You can see what I mean in the chart below: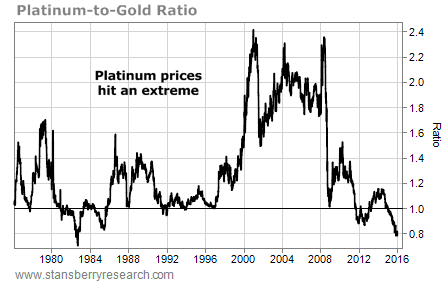 Each time platinum prices fell to less than 90% of gold prices, platinum rallied afterward. As you can see from the table below, some of those rallies were huge…
The average return of those first three rallies was nearly 70%. It even rose 5% during the depths of a bear market in metals back in 2012. That's extraordinary.
Platinum prices are on the rise right now. They bottomed on November 27 at $827 per ounce and have rallied 8% since. Investors interested in taking advantage of a potential move can do so with either the ETFS Physical Platinum Fund (PPLT), the iPath Bloomberg Platinum ETN (PGM), or my personal favorite, the Sprott Physical Platinum and Palladium Trust (SPPP).
I prefer the Sprott Physical Platinum and Palladium Trust because it trades at a 1.7% discount to the actual value of its holdings. That means when you buy $1,000 of stock, you're getting an extra $17 of platinum and palladium for free. But whether you buy it through the stock market, purchase a bar of physical bullion, or just take your wife jewelry shopping, platinum looks poised for a rally.
Good investing,
Matt Badiali
[ad#stansberry-ps]
Source: Growth Stock Wire