Smart resource investors could start 2016 off with 50% gains…
Given the current state of the commodities market, that might sound impossible. But it's the opportunity we have in natural gas right now.
Let me explain…
I first told you about the opportunity setting up in natural gas back in October.
[ad#Google Adsense 336×280-IA]As you may know, natural gas is a highly seasonal commodity.
We spend all summer producing it in Texas, Colorado, and Pennsylvania, and putting it in storage in Louisiana and Oklahoma.
Then in the winter, we pump it out of storage to ship to major cities in the Northeast part of the U.S.
Even if you use electricity to heat your home, there's a good chance that it comes from natural gas.
That's because natural gas now makes up 50% of all power generation in the U.S.
So natural gas prices tend to be higher during the winter as demand increases from consumers and businesses that use gas and electricity to stay warm.
But today, an odd weather pattern is sitting on most of the U.S. Because of it, we're setting all kinds of records for warmth, particularly in the east. And the National Oceanic and Atmospheric Administration (NOAA) says it will continue to be warm throughout the winter. This has sent investor sentiment plunging. According to SentimenTrader.com, investor sentiment toward natural gas is excessively pessimistic right now.
But that's great news for resource investors.
Sentiment toward natural gas last hit this extreme level of pessimism in April 2015. And by mid-May, natural gas prices rallied 20%. Take a look…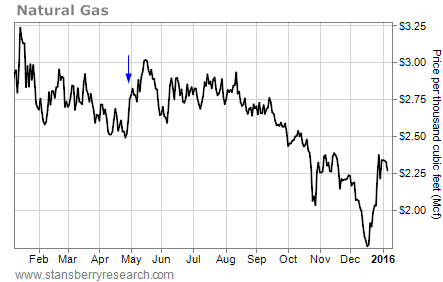 Since then, the natural gas price has plummeted. But that means we could see even bigger gains this time around as natural gas demand increases over the next few months.
You see, we are in the midst of a cyclical global weather pattern called "El Niño." That's shorthand for a warmer-than-usual Pacific Ocean. When that happens, it changes the weather all over the globe. It suppresses Atlantic hurricanes, creates a wetter-than-usual year for the south, from Texas to Florida… and causes a warmer-than-usual winter across the U.S.
But this El Niño pattern is stronger than most… which means any forecast based on the average, like the NOAA's, is suspect.
The meteorologists at WeatherBELL Analytics have a different opinion. WeatherBELL is a premium weather service rather than a government agency. I like WeatherBELL because it gets paid to be correct by companies that reap financial gains from weather forecasts – like oil companies, energy traders, and commodities traders. They win or lose by the accuracy of WeatherBELL's models (unlike government employees), so I tend to listen to them when I am putting money on the line.
Plus, weather experts run WeatherBELL. The two forecasters are Joe Bastardi and Joseph D'Aleo. Bastardi was the head long-range forecaster at AccuWeather for 32 years. D'Aleo co-founded the Weather Channel. He even wrote a book on El Niño forecasting.
Based on their models and observational data, these experts believe that the current winter will resemble 1957, which experienced a similarly strong El Niño. Back then, a winter storm in early January dumped 12 inches of snow in Maryland, 15 inches in New Jersey, and 20 inches in New England.
According to Bastardi, this winter is going to be a challenge:
I don't believe in broad-brushing El Niños to a standard one-size-fits-all composite. Our blend of analogs, even with the warm winters factored in, gives a major cold and snowy winter over the South and into the East.
They predicted that the El Niño would peak in October and fade away. The recent data backed up that forecast… so this El Niño is almost over. While Christmas was more like May in the eastern U.S., we're going to pay for that, starting this month. Winter will get a lot worse in January, February, and March.
That means we can expect demand for natural gas to rise soon… along with natural gas prices.
While I firmly believe we'll see gas prices back to more than $3 per thousand cubic feet (Mcf) by February, it could spike much higher. We could easily see it hit $5 to $6 per Mcf. I don't expect the price to stay that high for long because it would bring more supply into the market… and we have a lot of natural gas waiting in the wings.
As investors, we don't need prices to reach $6 per Mcf to make big money over the next few months. The natural gas price looks like it has hit bottom. Natural gas prices fell to a low near $1.70 per Mcf last month. Thanks to the first cold weather of the year, it's already at around $2.30 per Mcf today, which should put a short-term floor under the price. And the potential upside is huge. We could easily see natural gas prices double this year.
A simple way to take advantage of this trend is the United States Natural Gas Fund (UNG). It uses futures to track the price of natural gas. The fund is up 22% on the recent climb in natural gas prices. This fund isn't my favorite (because it uses futures that don't perfectly track the spot price). However, for a short-term trade, it will still allow us to lock in gains.
Buy UNG now and watch the natural gas price. Sell or reduce your position size when natural gas hits $3.50 per Mcf. Based on the forecasts I use, we should see a severe January and February. The general cold weather could last through March. So 50% profits in natural gas are possible this year.
Good investing,
Matt Badiali
[ad#stansberry-ps]
Source: Growth Stock Wire