The bull market is likely dying.
But that doesn't mean it's time to get aggressive on the short side right now.
Let me explain…
Take a look at the monthly chart of the S&P 500 plotted with its 20-month exponential moving average (EMA)…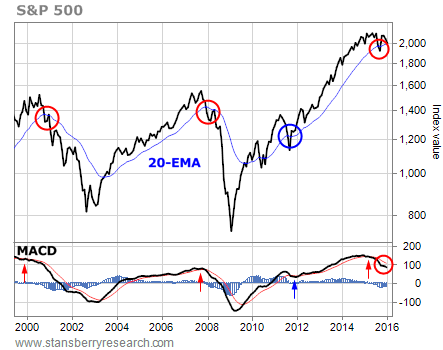 The S&P 500 closed last month above its 20-month EMA.
For me, that's the defining line between a bull market and bear market.
If the S&P 500 is above the line, then the momentum is bullish.
[ad#Google Adsense 336×280-IA]If the S&P 500 drops below the line, then the momentum is bearish.
Based on this chart, we're still in a bull market. It's too early to get aggressive with short positions.
And we can't rule out another possible push to new all-time highs.
But look at the lagging action in the moving average convergence divergence (MACD) momentum indicator.
Even if the broad stock market were somehow able to push up to new highs, there's no way the MACD indicator will rise above its peak from last January.
This "negative divergence" is an early warning sign that the bull market is ending.
Just look at the action in the MACD indicator in late 1999 and mid-2007. Both times, the decline in the indicator was an early warning sign of an impending bear market.
We have a similar setup right now.
In September 2014, I hosted a webinar. During that webinar, I predicted the S&P 500 would peak on May 5, 2015. That prediction was based on a number of technical conditions, including the action in the interest rate market, the level of investor margin debt, and the seasonal tendencies of stock prices.
The stock market peaked on May 12, 2015.
So far, though, we haven't seen too much of a move lower. Even after yesterday's steep decline, the S&P 500 is only down about 5% from its all-time high. It's still trading above its 20-month EMA.
Traders who are anxious to get aggressive with short sales should remember that even a dying bull can still kick.
I do not think the market is going to make new all-time highs (though, I can't yet rule it out). And I expect the next 200- or 300-point move in the S&P 500 is going to be to the downside. But I'm not taking on aggressive short positions just yet.
Stock prices tend to trend higher from November through April. So we're in a seasonally strong period for the market. And with the S&P 500 trading above its 20-month EMA, the bulls are still in charge – for now.
Best regards and good trading,
Jeff Clark
[ad#stansberry-ps]
Source: Growth Stock Wire