For this article, I want to talk about a tech stock that has had a tough year but seems to be turning around. It is trending up over the last week, and I have recently added shares to this well-known name as well.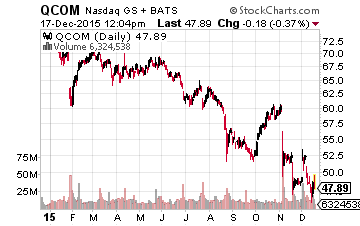 Qualcomm (NASDAQ: QCOM) shareholders have had better years. 2015 has brought significant declines in its stock price, and the company has consistently disappointed in the year that is just about to close.
Qualcomm has recently lowered guidance as it, along with most of the chip industry, has struggled with very weak global demand and earnings will be down year-over-year in FY2015.
[ad#Google Adsense 336×280-IA] Qualcomm also had its own specific troubles in China, which is a critical market for its earnings and growth prospects.
However, over the past week or so the company has been the recipient of some positive actions that might give it some momentum as we head towards 2016.
The company announced this week that it had entered into a new 3G and 4G patent license agreement Xiaomi, a leading Chinese smartphone maker.
This is a huge deal as part of the headwinds the stock has faced this year is the lack of these sorts of license deals in China as well as a tough recent settlement with Chinese regulators. This involved cutting its royalty rates by 35% and paying a fine of $975 million, but this deal should also result in OEM's in China more accurately reporting sales as well.
The Xiaomi license deal is significant as this OEM is responsible for five percent of all global smartphone sales over the past four quarters. The deal takes Qualcomm closer to resolving issues pertaining to its most profitable business of licensing patents and aids it in securing an additional foothold in the critical Chinese market. Qualcomm could also benefit from reaching a similar deal with Apple (NASDAQ: AAPL) next year and it is assumed that it products will be in the Galaxy 7 when it is launched in 2016 as well.
The company will still have to deal with regulatory issues in Europe and South Korea, and the company is also under pressure from activists – which is a good thing for shareholders as they will keep management's feet to the fire.
Qualcomm has recently agreed to cut 15% of its workforce and take some $1.1 billion of its cost base in 2016 as well as $300 million out of its compensation expenses next year as well. The company has been a heavy buyer of its discounted stock in 2015, and Activist Jana Partners will keep pushing Qualcomm to spin off it's chip business which has very thin margins and requires significant annual capital expenditures which would leave Qualcomm with is lucrative license and royalty business which sports over 80% gross margins.
The recent moves by Qualcomm are starting to get the company noticed by analysts again. Pacific Crest initiated Qualcomm as a Buy this week with a $64.00 a share price target as it believes it will regain market share with the launch of the Galaxy 7 next year. It also just made Merrill Lynch's picks of five beaten down Blue Chips that should rebound in 2016 list.
Earnings will be down in FY2015 year-over-year for myriad reasons, mostly those listed above. Growth should return in 2016 as the consensus has Qualcomm increasing earnings between 15% to 20% in the new fiscal year on the back of a mid-single digit gain in revenues. The company has a rock solid balance sheet as well. Finally, the shares pay a 3.7% dividend yield and go for under 11 times forward earnings. At these levels, the stock should appeal to value, growth and income investors. ACCUMULATE
— Bret Jensen
[ad#ia-bret]
Source: Investors Alley
Position: Long QCOM