The long bear market in junior mining stocks continues.
The S&P/TSX Venture Composite Index – the "Dow Jones Industrials" of junior mining companies – is down 78% since peak in 2011. It's down 30% from its March 2015 high.
But that doesn't mean there aren't opportunities to profit…
[ad#Google Adsense 336×280-IA]As regular
Growth Stock Wire
readers know, junior miners have been in a big bear market since 2011.
With gold prices down 43% and silver prices down 70%, respectively, since their 2011 peaks, many junior miners are struggling to stay in business.
And things always get worse for these companies at the end of the year, thanks to "tax-loss selling."
You see, U.S. and Canadian investors can sell underwater stocks at a loss to offset their total capital-gains-tax liabilities each year (this is called tax-loss selling).
This reduces their overall tax bills.
(Canadian investors can apply losses retroactively back a few years.) So there's an incentive for investors to sell stocks they've taken losses on by December 31 – for whatever price they can get in the market. After all, they can always buy the stocks back after 30 days.
That's why a selloff occurs in junior miners during the last few months of each year as investors use tax-loss selling as a reason to dump any underwater stocks. And a rally usually begins in January and February as investors come back into the market.
The Venture Index has rallied every year from December to March since its peak in 2011, as you can see in the chart below.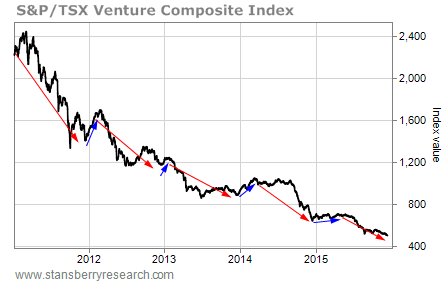 The average tax-loss rally returned 14% over the past four years. That may not seem like much, but considering the long downtrend in junior miners, it's fantastic.
If you want to take advantage of the tax-loss rally, you should buy a handful of quality companies. A good basket would include names like Reservoir Minerals (TSX V: RMC), Kaminak Gold (TSX V: KAM), Roxgold (TSX V: ROG), Bear Creek Mining (TSX V: BCM), and Grenville Strategic Royalty (TSX V: GRC). These are the best companies to take advantage of the upcoming junior-mining rally.
But remember, these are microcap companies in a terrible bear market. So once you're up 10% to 15%, get out. You don't want to hold on when the long-term downtrend is still down.
Buy before the end of the month. And plan to sell around mid-February. Do not plan to hold for longer than that.
Good investing,
Matt Badiali
[ad#stansberry-ps]
Source: Growth Stock Wire