It has been a quite bifurcated biotech sector since the space started a bear market decline late in July.
As typical in these frequent "hiccups" in this lucrative but volatile area of the market, the pullback from peak to trough lasted about two months and the biotech indices bottomed in late September.
[ad#Google Adsense 336×280-IA]Also, as historically happens large-cap growth names like
Amgen (NASDAQ: AMGN)
went down less than their smaller-cap brethren and were the first to start to recover.
This is why I always advocate that 50% to 75% of one's overall biotech portfolio should be in these large cap "core" positions, depending on one's risk tolerances.
It is a strategy that I have developed over two decades of investing in this space and one of the core of my core rules for outperforming the benchmark averages.
I have gotten a lot of questions from followers on why their particular small cap biotech stock has fallen recently. About 80% to 90% of the time, nothing has changed as far as the prospects for the company.
There have been no trial failures, equity raises and analysts downgrades. The only factor that has changed is the sentiment on the sector as the market temporarily goes into one of its periodic "risk off" modes. Such are the perils of investing in high beta parts of the market.
However, eventually the same forces that have lifted the large cap biotech stocks off their recent bottom will spread out to the smaller more speculative part of the sector. One small cap biotech/pharma stock that looks like it has bottomed recently and that I have in my own portfolio is Zogenix (NASDAQ: ZGNX).
The shares look like they have put in a floor at around the $11.00 level and have recently surged past $14.00 a share. However, this is still a far cry from where they were trading before the recent sell-off in Biotech Land. I still think the equity has solid upside potential and that is why we are making Zogenix our stock of the day.
Company Overview: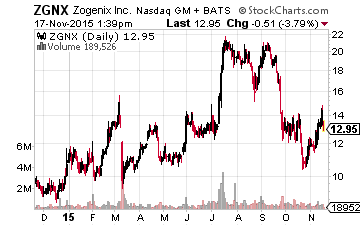 Zogenix is a small California-based pharma concern with a market capitalization of under $300 million whose shares exchange hands at approximately $14.40 apiece after the stock's recent rally.
Earlier in the year, the company sold is abuse resistant pain compound "Zohydro" to Pernix Therapeutics (NASDAQ: PTX) for $100 million plus milestones of up to just over $280 million.
If Zohydro does well in the hands of Pernix, Zogenix could earn out more than its current market capitalization. Flush with cash the company is investing in developing two advanced stage and potentially lucrative compounds.
ZX008:
This compound was acquired from Brabant Pharma in late 2014 and Zogenix is in the process of initiating a Phase III trial testing this compound in treating Dravet's Syndrome for which is has received Orphan Drug Status from the FDA and also in Europe. Results should be available late in 2016. If positive, the company anticipates approval for ZX008 in 2017 and also plans to look at the opportunity to explore ZX008 efficacy in other orphan seizure disorder indications. From the initial analysis I have seen, the potential market is approximately $750 million annually for a treatment for Dravet's.
Dravet Syndrome is an orphan disease with an incidence estimated to be between 1-in-20,000 and 1-in-40,000 live births. Children with Dravet syndrome experience severe, long-lasting, fever-related seizures in the first year of life, with other seizures typically arising later in life. These seizures do not respond to standard anti-epileptic medications and often times result in severe cognitive and developmental impairment, and can be fatal.
Relday:
Relday is a proprietary, once-monthly subcutaneous formulation of risperidone for treating schizophrenia. If approved, Relday will be the first subcutaneous antipsychotic product that allows for once-monthly dosing. The company licensed the rights to develop and commercialize this product in 2011 from DURECT.
In the third quarter, the company announced positive topline pharmacokinetic results from a Phase 1b multi-dose clinical trial of Relday. Zogenix is currently seeking a global development and commercialization partner for Relday, who will take responsibility for the Phase 3 program both in the United States as well as in Europe. If it is successful in this endeavor it could provide a nice boost to the stock.
Analyst Commentary & Balance Sheet:
The company raised some $92 million via a secondary offering earlier this year and now has enough cash in place to fund operations through 2017 according to the last conference call on November 9th. After the conference call, Leerink Swann reiterated their Buy rating and $26.00 a share price target on ZGNX. Brean Capital did the same the next day with their $28.00 a share price target
Outlook:
I like the risk/reward profile of Zogenix at current levels. It stands to benefit greatly if Zohydro is a success. ZX008 is a very promising late-stage product and Relday could be a nice catalyst if the company can find a global developmental partner. The company also has a solid balance sheet and strong analyst support and I believe it is worth consideration here by aggressive growth investors. Given I believe that M&A activity will remain strong over the next year for this sector, Zogenix could easily find itself a bite-sized purchase for a larger player as well.
— Bret Jensen
[ad#ia-bret]
Source: Investors Alley