For the past few months, we've had a near-perfect road map for the gold sector.
After selling off hard in late July, the gold sector looked to be forming the same sort of bottoming pattern it developed last year.
[ad#Google Adsense 336×280-IA]The similarities continued into September… resulting in a gold-stock breakout. Last month, the pattern continued with another push higher.
But now, gold stocks need to break that pattern. Otherwise, things could get ugly.
Take a look at this updated chart of the Market Vectors Gold Miners Fund (GDX)…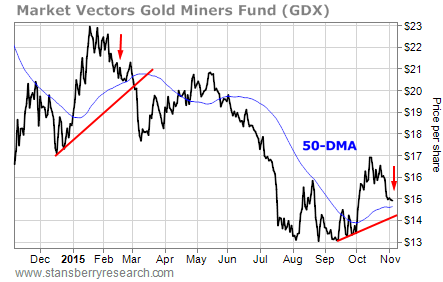 You can see the remarkable similarity between the rally that started last December and the current conditions. The red arrows on the chart show where I think the current GDX rally is, relative to the rally that started last December.
After peaking near $17 per share last month, GDX is now drifting back down to test its 50-day moving average (DMA) as support. There's another support line just below that at about $14.20 per share.
This level MUST hold if gold stocks are going to rally further into the end of the year. In other words, the gold sector needs to break away from the pattern it has been following.
You see, after GDX peaked in January, the fund fell back down and tested the support of its 50-DMA. It failed.
GDX then tested the support of its rising uptrend line (the red line). It failed too. GDX collapsed and gave up nearly all of the gains of its rally.
Similar action this time would push GDX all the way back down toward the $13 level and wipe out all of the gains since early October.
Gold stocks need to make a stand right here.
Aggressive traders looking to profit from the current setup can buy GDX as it tests the support of its 50-DMA at about $14.60. If support holds and GDX bounces, then the next rally phase could push GDX to a higher high above $17 per share.
Traders can set a stop just below the rising uptrend line at about $14.20. So if support fails, that would limit the downside potential to a relatively small loss.
Best regards and good trading,
Jeff Clark
[ad#stansberry-ps]
Source: Growth Stock Wire