To start this discussion, let me put out that I tend to be more skeptical of companies that pay monthly dividends. After reviewing many monthly pay stocks, I have found that management teams like to use the monthly dividend hook as a smoke screen for subpar financial results.
[ad#Google Adsense 336×280-IA]An attractive yield combined with monthly dividend payments can cause investors to focus on those two facts and not look seriously into the company financials.
My skepticism of the monthly dividend scheme forces me to dig even deeper when I look at a monthly paying stock for analysis.
When I do find one worth buying, I am extra pleased to recommend it to my newsletter subscribers.
Below are several examples of monthly pay stocks that should provide attractive yields in your portfolio.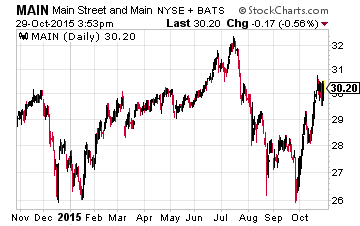 Not all of them are recommendations for The Dividend Hunter subscribers, but they have merits that make them stand out from the monthly dividend stocks pack.
Main Street Capital Corporation (NYSE:MAIN) may be the best monthly dividend stock in the market.
This business development company (BDC) has figured out how to stand apart from the pack in the face of the restrictive BDC rules. Witness these dividend stats about MAIN:
MAIN has paid uninterrupted monthly dividends since switching from quarterly to monthly in September 2008.
Starting in 2011, MAIN has been able to increase the monthly dividend twice a year every year.
Since 2012, the company has twice a year paid special dividends out of the profits earned from the equity investments. Those special dividends have meaningful value, adding 26% of extra cash income on top of the monthly dividends so far in 2015.
MAIN currently yields 7.1%.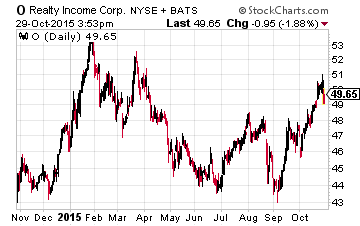 Realty Income Corp (NYSE:O) has trademarked its "The Monthly Income Company" descriptor.
Realty Income is a net lease REIT, probably the most stable of the different REIT categories.
This is one of the larger REITs with a $12 billion market cap.
The company has an unparalleled dividend record, having paid a dividend for 540 consecutive months with 81 dividend rate increases since 1994.
That works out to an increase almost every quarter. Both the Realty Income yield and annual dividend growth rate are about 4.5%. With Realty Income you are not investing to maximize income, but to generate a very safe monthly income with a yield that is still very attractive compared to most other income investments.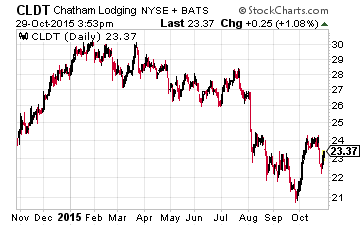 The hotel/lodging REIT sector is one that cycles with the economy, and currently the hotel REITs are about in the middle of a multi-year revenue and profit growth trend.
Chatham Lodging Trust (NYSE:CLDT) is the one stock in the sector that pays monthly dividends.
Two years ago Chatham increased its dividend by 14%, and in January this year the rate was increased by 25%.
So far in 2015, the current dividend is about half of the generated FFO per share. It is probable that the dividend will be boosted significantly again in January. Chatham Lodging is not a buy and hold forever stock, but it will pay an attractive and growing dividend as long as the up cycle for hotels continues. Watch for a slowing in FFO per share growth as your cue to exit. CLDT yields 5.2%.
Investors should not jump on a stock just because it pays monthly dividends. However, if you can find quality dividend payers, the monthly payout is just an extra bonus.
Finding companies that regularly increase their dividends is the strategy that I use myself to produce superior results, no matter if the market moves up or down in the shorter term. The combination of a high yield and consistent dividend growth in stocks is what has given me the most consistent gains out of any strategy that I have tried.
— Tim Plaehn
Sponsored Link: And, there are currently over twenty of these stocks to choose from in my Monthly Paycheck Dividend Calendar, an income system used by thousands of dividend investors enjoying a steady stream of cash.
The Monthly Dividend Paycheck Calendar is set up to make sure you receive a minimum of 5 paychecks per month and in some months 8, 9, even 12 paychecks per month from stable, reliable stocks with high yields. If you join my calendar by Friday, November 6th you will have the opportunity to claim an extra $3,135.50 in dividend payouts by Christmas.
The Calendar tells you when you need to own the stock, when to expect your next payout, and how much you can make from stable, low-risk stocks paying upwards of 12%, 13%, even 15% in the case of one of them. I've done all the research and hard work; you just have to pick the stocks and how much you want to get paid.
The next critical date is Friday, November 6th (it's closer than you think!), so you'll want to take before that date to make sure you don't miss out. This time we're gearing up for an extra $3,135.50 in payouts by Christmas, but only if you're on the list before the 29th. Click here to find out more about this unique, easy way of collecting monthly dividends.
Source: Investors Alley
Position: Long MAIN