I regularly review a large number of high yield stocks.
I try to dig out the details that separate a high-quality company from one that has the potential to truly whack investor wealth.
[ad#Google Adsense 336×280-IA]I often talk about how tremendous value can be found in the dark corners of the stock market, where the investing public doesn't understand how these undiscovered nuggets of dividend paying companies operate.
But sometimes I realize I need to go back and discuss a stock that should be core holdings for almost every stock market investor.
We can all learn some lessons from an overview of how Main Street Capital Corporation (NYSE:MAIN) operates and pays investors.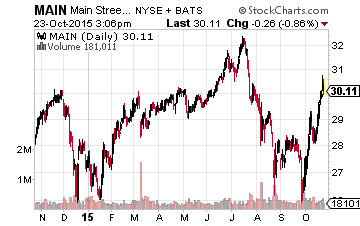 MAIN is a business development company (BDC) a class of stocks that operate under special laws and tax rules that require them to provide financing to small and mid-size corporations.
There are about 40 publicly traded BDCs, ranging from market caps measured in tens of millions up to Ares Capital Corporation (NASDAQ:ARCC) with almost $5 billion of market value.
Overall, I think the BDC space carries a lot of risk, primarily driven by the restrictions government rules put on the business type, and only about one-tenth of the stocks in the group offer acceptable investment risk. Out of this small subset, Main Street Capital stands well above the rest as a company that has developed a very strong business model inside of the BDC rules.
A BDC can make either debt (loans) or equity (buying shares) investments in its client companies.
Most BDCs focus on the debt side, make high interest rate business loans with cash for BDC dividends coming from the interest rate spread a BDC earns. Main Street Capital makes plenty of loans, but it also puts a significant amount of capital into equity investments.
These investments allow MAIN to participate directly in the growth of its client companies. The two tier model has worked very well for Main Street Capital, with the strongest evidence coming from MAIN's dividend payment record.
MAIN has paid uninterrupted monthly dividends since switching from quarterly to monthly in September 2008.
Starting in 2011, MAIN has been able to increase the monthly dividend twice a year every year.
Since 2012, the company has twice a year paid special dividends out of the profits earned from the equity investments. Those special dividends have meaningful value, adding 26% of extra cash income on top of the monthly dividends so far in 2015.
These facts add up to a very high-quality income investment with a 7% yield on the monthly dividends alone. The specials boost yield to over 9%. The regular dividend increases will result in a 10% yield on cost in just a few years. I know of no other stock that can be counted on to pay you 14 dividends per year and provide a growing cash income stream. If you do not own any MAIN shares, go buy some.
Main Street Capital teaches us another lesson about income stock investing. You can see I have laid out the case that MAIN is one of the most consistent dividend paying and dividend growing stocks you can buy.
Yet over the last year alone there is a 27% difference between the 52-week low and the 52-week high share prices. Stability of business operations and dividend payments does not lead to stability in share prices.
As income focused investors, we need to always be aware that those big share price swings that occur regularly in the market do not indicate the quality of the income stream we want to earn from an income-focused portfolio. We buy for the income, and share price swings are only viewed as buying opportunities when share prices experience a decline.
Finding companies that regularly increase their dividends is the strategy that I use myself to produce superior results, no matter if the market moves up or down in the shorter term. The combination of a high yield and consistent dividend growth in stocks is what has given me the most consistent gains out of any strategy that I have tried.
–Tim Plaehn
[ad#ia-tim]
Source: Investors Alley
Position: Long MAIN