The stock market is even more overbought today than it was last week.
Over the past two weeks, we saw the S&P 500 rally as much as 7.5%. That's a remarkable move.
[ad#Google Adsense 336×280-IA]And the proverbial rubber band is now stretched far to the upside.
It can stretch further. Overbought conditions can get even more overbought.
But the odds are against it…
Too many technical indicators are now at levels that often coincide with a short-term top in the stock market.
For example, take a look at the charts below. They show the McClellan Oscillators for the New York Stock Exchange (NYSE) and the Nasdaq at Friday's close…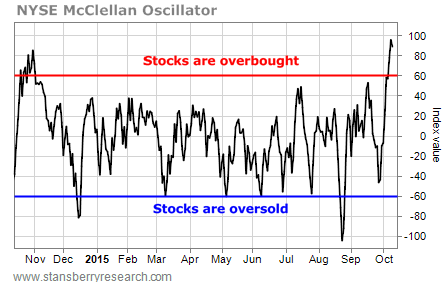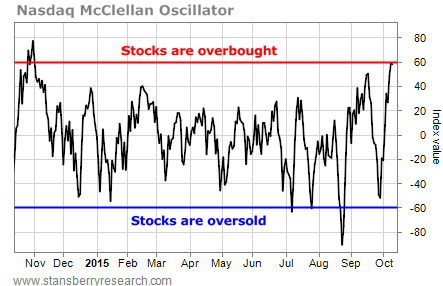 The McClellan Oscillator is an indicator of overbought and oversold conditions. It's generally considered to be oversold when it falls to less than -60. It's overbought when it rallies to more than 60.
As you can see from the charts, both the NYSE and the Nasdaq McClellan Oscillators closed Friday at the most overbought readings of the year.
And the Volatility Index (VIX), a contrary measure of investor sentiment, has collapsed from where it was a few weeks ago…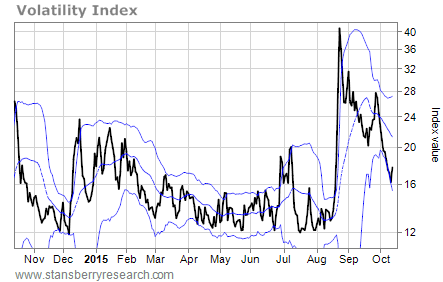 The VIX closed Monday at 16.17 – just a fraction higher than its lower Bollinger Band. This represents an extreme move to the downside.
The VIX often rallies off of this sort of oversold condition. And a strong rally in the VIX is usually accompanied by a strong decline in the broad stock market.
The stock market has held up well since I turned cautious on it last week. But with so many technical indicators at levels that often precede a broad stock market decline, it's hard to argue that the market is headed even higher in the near term.
Traders need to be cautious here. Tighten your stops. Trim your profits. And brace yourself for a big move to the downside.
Best regards and good trading,
Jeff Clark
[ad#stansberry-ps]
Source: Growth Stock Wire