Two weeks ago in DailyWealth, I told you about a trade that wasn't quite ripe yet…
It had almost the exact setup that I wanted to see. It was missing just one crucial thing.
Today, that one crucial thing is in place. The setup is perfect for what I look for in a trade.
[ad#Google Adsense 336×280-IA]A perfect setup doesn't guarantee that it will work out, of course.
But I've learned that my odds are best when all of these things come together.
The principles of this "perfect setup" apply to just about every trade I make.
This particular trade happens to be in the Australian dollar… You are welcome to trade the Aussie dollar now… But that's not my point today.
My message today is to show you the "perfect setup" in action…
Two weeks ago in DailyWealth, I wrote:
The Aussie dollar has lost a quarter of its value since last summer. That is crazy for a developed country's currency.
By any measure, the Aussie dollar is cheap… oversold… and hated. Traders have placed near-record bets against it (based on futures contracts). These things are classic signs of a bottom in the Aussie dollar.
The thing is, you could have said the same thing about the Aussie dollar earlier this year – and yet it's hitting new lows today. If you had bet on a higher Aussie dollar then and held until now, you would have lost real money.
The message from the Aussie dollar is simple: Don't fight the trend.
Longtime readers know I look for three things in an investment – I want it to be 1) CHEAP, 2) HATED, and 3) in the start of an UPTREND.
Two weeks ago, the Aussie dollar was CHEAP and HATED. But we didn't have a clear uptrend yet.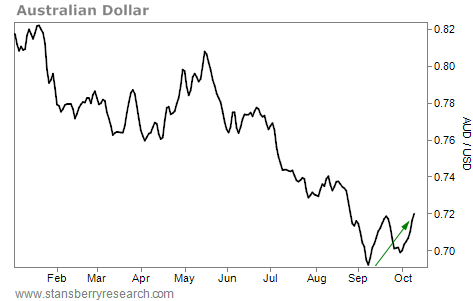 Today, we have the perfect setup…
As you can see from the chart, we have what looks to be the start of an uptrend in the Aussie dollar. That gives us the trifecta – cheap, hated, and in the start of an uptrend.
To me, it's time to enter that trade.
To protect your downside risk, you can set a stop loss at the recent low in the Aussie dollar. This way, your downside risk is very low, but your upside potential is wide open.
The principle behind setting the stop loss at the recent low is, if a new low is actually hit, it means I got it wrong… It means a new uptrend is not actually in place.
That is about it.
You can easily make it much more complicated than this. But those are the basics. That's what a perfect setup looks like to me.
Thankfully, today, we're seeing this perfect setup in a large number of different assets…
I urge you to look out for these perfect setups (they happen more often than you might think) and take advantage of them! I can assure you, you'll be a better investor if you do.
Good investing,
Steve
Sponsored Link: The newest issue of my True Wealth newsletter comes out Tuesday (which is a few days early), and because of all these perfect setups, I have a few new buy recommendations. (You can learn more about my True Wealth newsletter and how to sign up right here.)
Source: Daily Wealth