GoPro Inc. (Nasdaq: GPRO) continues to defy the odds thanks to a litany of headlines and experts who just "know" the stock is going to rebound.
…Pac Crest says buy the stock despite "session" disappointment – Barrons
…GoPro bounces back on coverage initiation – TheStreet
…GoPro market unlikely to be cannibalized by smartphones – Investor's Business Daily
And my personal favorite…
…GoPro can recover in 2016 – Sterne Agee
Call me crazy, but that's about as possible as FedEx painting its truck fleet brown.
[ad#Google Adsense 336×280-IA]I think GoPro stock is worth $15 a share… at best.
Here's what you need to know to line up 50% gains or more.
Wall Street Darlings Are a Funny Breed
Driven by hype and very clever investment banking, stocks that are breathlessly celebrated by Wall Street often have terrible fundamentals and little or no promise of ever enriching anybody except their founders and early VC investors.
Yet they rise like a rocket after their initial public offering, luring millions of investors to their financial demise.
Then, when reality becomes apparent, they come crashing down to more realistic valuations, crushing anybody left holding the bag.
That's the part that interests me most, for the simple reason that shorting stocks can be phenomenally profitable if you know what to look for and when to make your move. Plus, doing so provides another source of diversification by technique that's every bit as important as diversification by large cap, small cap, bonds, etc.
George Soros, for example, banked a billion dollars breaking the Bank of England in 1992. Then he made another billion betting against the Japanese yen – a trade, incidentally, that I beat him to and helped Money Morning readers capture profits of more than 100%.
Jim Chanos, who heads Kynikos Associates, has made millions by calling out companies ready for a tumble. He was first in the water with Enron, for example, calling it a "disguised hedge fund unworthy of the valuation" it held. Tyco and Worldcom were other notable Chanos calls.
We've talked about the importance of shorting stocks a lot this year with choices like Shake Shack Inc. (NYSE: SHAK), Zoe's Kitchen Inc. (NYSE: ZOES), and Twitter Inc. (NYSE: TWTR). Subscribers who have followed along as directed have bagged profits of at least 48.74%, 10.98%, and 33.92% as those companies have fallen from grace.
In each case, we took our cue from a common set of factors:
Extremely high valuations that don't match market fundamentals
A litany of articles, recommendations, and commentary extoling investors to ignore poor performance and buy anyway
High company-specific risk
GoPro hits on all three.
The company peaked at $98.47 a share in October, which reflected a PE ratio of 1,230 times earnings, give or take. Since then, it's dropped by more than 60% to where it closed Tuesday.
The chart is particularly ugly.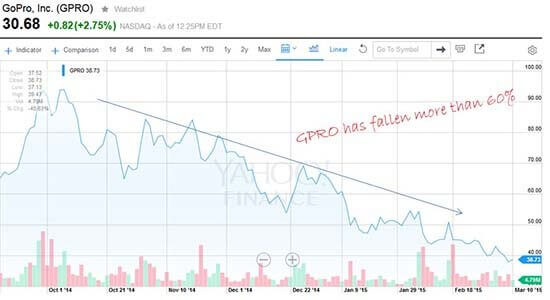 And there's high company-specific risk, meaning that there are factors unique to GoPro that may actually limit growth rather than enhance it.
For example, the company has slashed prices 25% on its HERO4 Session camera, yet did not revamp its high-end product line. What's more, the new Hero+, a mid-range camera with built-in Wi-Fi and Bluetooth features, may be a bust because it cannibalizes what would otherwise be high-end sales.
Sony and Ion are charging hard, and with market share that's presently estimated to be 8% and 12%, respectively, according to Market Realist, that suggests GoPro's 47.5% market share will drop. Apple has recently upgraded its phone to shoot higher-resolution video, and that has the GoPro fan club's selfie sticks trembling.
I think there's a good case to be made for tenuous growth and decreasing margins, despite the fact that the market for wearable cameras is projected to increase through at least 2019.
The situation reminds me an awful lot of Blackberry.
Yet major media outlets and Wall Streeters are falling all over themselves to convince people that GoPro stock is still a great buy.
Once THE smartphone to have, Blackberry fell prey to competition from Samsung, Apple, Xiaomi, and dozens of other manufacturers keen to gain market share. This past quarter, the company sold only 800,000 handsets versus 2.4 million a year ago while at the same time reporting a 46.5% revenue drop.
Anecdotally, I've got some insight, too.
As you may know, I'm passionate about vintage motorcycles, and there's nothing I love more than heading for the horizon on two wheels, except possibly sharing a particularly beautiful mountain sunset or a prairie vista with friends and family who couldn't join me.
The last thing I want on my helmet is a clunky, square GoPro camera that creates drag, wind noise, and looks goofy. Like many of my motorcycling buddies, I prefer the smaller, more aerodynamic Contour+2 or Elmo Helmet Cam. But that's just me.
The bottom line here is pretty simple. Valuations are high, competition is eating away at margins, and earnings estimates are coming down.
Industry comps make me think GoPro stock maybe is worth $15 at best under the circumstances.
Tactically speaking, there are a few things to remember if you want to follow along:
GoPro is a media darling and 14% of the float is held by institutions. That means you're up against a very powerful group with a vested interest in seeing the price go higher before it goes lower. The spin doctors will be out in force.
Risk no more than 2% of overall capital on this trade. Despite the fact that it's got great potential, you never want to bet the farm on anything. That's just asking for trouble.
Set a predetermined profit and loss target and stick to it. There's no room for emotion here.
Now, where's my BlackBerry?
— Keith Fitz-Gerald
[ad#mmpress]
Source: Money Morning