There's a large, scary problem facing the U.S. food industry…
And it could soon affect the share prices of some food producers…
If you've been to the grocery store lately, you may have had trouble finding products made with turkey – like lunch meat. Tyson Foods brands Sara Lee and Hillshire Farm have had countrywide shortages of their turkey lunch meat.
But it's not just turkey.
We're also seeing egg shortages.
[ad#Google Adsense 336×280-IA]Many restaurants and food producers are struggling to get eggs to make their food and egg products (like mayonnaise and cake mixes) right now.
The U.S. Department of Agriculture lowered its forecast for table egg production this year by 5.3% from last year.
This isn't just some fluke distribution problem.
It's a supply problem. There aren't enough turkeys and laying hens to produce lunch meat and eggs right now.
You see, millions of turkeys and chickens are dying because of a certain strain of avian flu.
Two years ago, migrating waterfowl, like ducks and geese, in the Bering Sea brought a new strain of flu from Asia into Alaska. It spread east and mutated into a deadly disease. Since then, it has wreaked havoc on both wild and domesticated poultry. It's called a "highly pathogenic avian influenza" (HPAI), which means it spreads like crazy among domestic birds. It is so easy to spread that many live-poultry exhibits at state fairs and farm shows have been canceled this year.
In 1983, a similar flu virus killed 17 million chickens in Pennsylvania alone. It cost the state's chicken farmers more than $65 million. The virus spread to Virginia, New Jersey, and Maryland… affecting turkeys and game birds as well. It led to the destruction of 15 million birds and a big decrease in revenue for many producers there.
Today's virus is worse.
Iowa turkey farmer Brad Moline recently told Congress that he had lost all 56,000 turkeys on his farm in May. In July, more than 8 million turkeys had been killed by this virus, which has cost the poultry industry more than $500 million. In total, more than 48 million turkeys and laying hens have died from this virus so far this year. Millions more could die as migrating waterfowl head south for the winter and the virus continues to spread.
Companies like chicken-producer Pilgrim's Pride (PPC) are already starting to feel the strain. Take a look: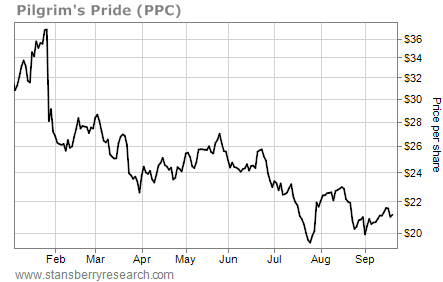 Shares are down nearly 25% this year.
But things are likely about to get worse for poultry companies. With fewer turkeys and chickens available this holiday season, the earnings of chicken producers like Pilgrim's Pride and turkey producers like Seaboard Corporation (which owns the Butterball turkey brand) will fall… along with share prices.
If you own poultry-producer stocks, consider selling them now. 2015 earnings are likely to be weak when these companies report early next year. If you're looking for a possible short-sale opportunity, Tyson Foods (TSN), Seaboard Corporation (SEB), and Pilgrim's Pride look like good candidates going into the holidays.
Good investing,
Matt Badiali
[ad#stansberry-ps]
Source: Growth Stock Wire