In just four years, more than $800 billion has gone to "money heaven."
[ad#Google Adsense 336×280-IA]That's how much market value the world's 15 largest mining companies have lost during the resource bear market.
This massive destruction of wealth might sound ominous for the mining sector.
But it's creating a great opportunity for investors…
Regular Growth Stock Wire readers know resource stocks have plummeted over the past few years.
Since peaking in 2011, the Thomson Reuters Global Mining and Metals Index – which tracks the world's largest mining companies (not just the ones listed on the New York Stock Exchange) – has lost around 60% of its value.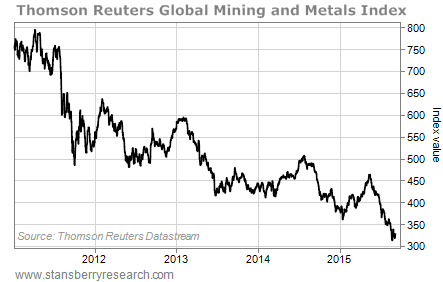 Investors holding mining stocks during this time have watched their wealth melt away like an ice cube on the equator. You can see just how much wealth has been destroyed in the table below. It compares the market values of the world's 15 largest mining companies in 2011 with their values today. Take a look:
As you can see, these companies were worth $1.2 trillion at the top in 2011. Today, they are worth just $372.5 billion. That means $832.4 billion in market value has been wiped out.
Now, no one wants anything to do with miners. These companies are as hated as they've been in decades. The world is pricing these giant miners as if we'll never build another refrigerator or ship. Coal miners are priced as if we'll never build another power plant. And gold miners are priced as if we won't buy jewelry or mint coins ever again.
But that's great news for investors. Remember, the natural resource market is tremendously cyclical. It goes through huge cycles of boom and bust. The key to making big gains in the sector is to buy assets that have been in "bust" mode. Once a natural resource is left for dead, things often get better and prices eventually boom… along with the share prices of companies in the sector.
That's why we're selectively buying big mining companies right now in the Stansberry Resource Report. I'm not ready to buy the whole index, but certain companies are simply too cheap to ignore. I want to be in position for the rally as soon as it starts.
If you're looking to profit in the resource sector, I recommend looking into big miners today. With many of these companies as cheap as they are right now, a new uptrend when things get "less bad" could send them soaring.
Good investing,
Matt Badiali
[ad#stansberry-ps]
Source: Daily Wealth