The junior mining stock rally is just around the corner…
A critical relationship between the gold price and mining companies just changed. It's the latest sign the junior mining sector is ready to turn around.
And it's why you should have junior miners on your radar right now…
Earlier this month, I told you resource stocks were gearing up for a breakout.
[ad#Google Adsense 336×280-IA]The junior mining sector is one of the most hated areas of the market.
The "Dow Jones Industrials" of junior miners – the S&P/TSX Venture Index – is down 79% from its 2011 high.
Many junior miners are now penny stocks. And assets in the sector are cheap.
But as regular readers know, natural resources – along with companies in the sector – are tremendously cyclical.
They go through huge cycles of boom and bust.
The key to making big gains in natural resources is to buy assets that have been in "bust" mode. Once a natural resource is left for dead, things often get better and prices eventually boom… along with the share prices of companies in the sector.
For example, in 2008, the Venture Index fell nearly 80% during the financial crisis. No one wanted anything to do with junior miners by 2009. But then things got less bad… and the Venture Index rocketed 256% higher over the next couple of years.
This is the sort of setup playing out today. And now, we have one more reason to believe junior miners are being left for dead.
For years, there was a strong correlation between the gold price and the Venture Index. Whenever the gold price rose, investors got hopeful about the junior mining sector… and bought junior mining stocks. But whenever the gold price fell… investors lost hope in the sector. And junior mining stocks plummeted as everyone sold them.
You can see this in the chart below: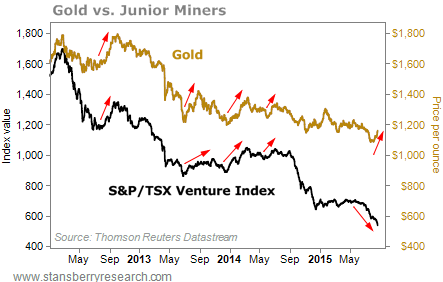 Since 2012, the gold price and the Venture Index have moved together more than 60% of the time. However, lately the two have been moving in opposite directions. Since late July, gold prices have rallied around 6%… but the Venture Index has continued falling around 10%.
This is the most dramatic "divergence" between the gold price and junior miners in years. And it shows investors have given up on the junior mining sector.
But that's great news for us. Once everyone leaves junior miners for dead, things will get less bad… and these stocks will boom.
We're still not there yet… but we're getting closer. Get ready to buy junior miners soon.
Good investing,
Matt Badiali
[ad#stansberry-ps]
Source: Growth Stock Wire