The U.S. energy boom shows no signs of stopping…
As regular readers know, the U.S. is producing massive amounts of oil. Today, the U.S. produces 88% more oil than its average in 2008. And production will likely continue increasing.
That's bad news for oil prices…
More supply than demand in the U.S. has sent oil prices plunging. The price of benchmark West Texas Intermediate (WTI) crude oil is down 56% over the past year.
[ad#Google Adsense 336×280-IA]Many oil and gas producers are now
struggling to stay in business
.
The Energy Select Sector SPDR Fund (XLE) is down around 30% from its high in June 2014.
That's a huge fall for a fund made up of the largest oil companies in the world, like ExxonMobil (XOM), Schlumberger (SLB), Chevron (CVX), and Kinder Morgan (KMI).
Many companies have even scaled back on new drilling and announced job cuts.
U.S. oil companies have cut more than $670 billion in planned capital investment in 2015.
You would think scaling back on new drilling would send oil production tumbling. But that isn't happening.
The chart below shows daily U.S. production of crude oil through August 7 (the latest data available). That week, we produced an average of 9.4 million barrels per day.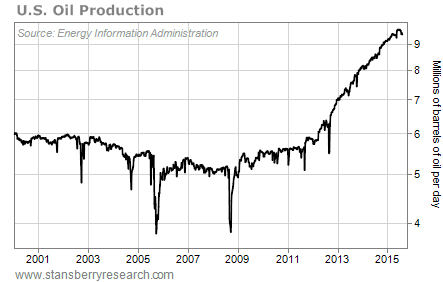 Production has gone down slightly from the peak of 9.6 million barrels per day in June. But don't let that 200,000 barrels per day fool you. It's not a significant decline in production. That's why oil prices haven't bottomed.
We need to see production fall by at least 500,000 barrels per day before we can confirm a decline in production. Otherwise, the dips are just noise in the data. And we need to see production fall off to see oil prices recover.
But for now, oil production is still on its steady uptrend. And it's likely to keep rising…
You see, from June to August, the Baker Hughes (BHI) U.S. rig count rose 7%. The Baker Hughes U.S. rig count measures the number of drilling rigs working in the U.S. It's a common indicator for the health of the oil industry.
For example, oil-drilling-rig numbers peaked in October 2014… and plunged 61% to a bottom in June. However, new oil techniques – like fracking and horizontal drilling – are allowing U.S. producers to tap into oil and gas reserves in shale more economically. And as I showed you earlier this year, oil-services companies are making it even more economical to drill.
So despite producers cutting back, oil production has kept rising.
Now, some companies are adding rigs. This will ramp up production even more… and keep oil prices low.
Adding rigs may be bullish for a few oil companies. But the bulk of the sector remains a minefield of potential bankruptcies as long as oil prices remain low. So be cautious before adding any oil companies to your portfolio. There's likely more downside ahead.
Good investing,
Matt Badiali
[ad#stansberry-ps]
Source: Growth Stock Wire