Biotech juggernaut Gilead Sciences (NASDAQ:GILD) last week again reported some of the best results seen so far in the second quarter earnings reports from companies within the S&P 500. Approximately 60% of these companies have delivered quarterly numbers as of Friday.
Collectively, earnings are flat year-over-year on a four percent drop in revenues. The strong dollar, the collapse of crude oil prices and tepid global demand are the main culprits behind this dismal performance.
[ad#Google Adsense 336×280-IA]Luckily, shareholders of Gilead are far removed from these pedestrian concerns.
The company crushed earnings expectations on a 27% year-over-year increase in sales in its just-reported quarter.
The biotech concern also raised full year revenue guidance for the second quarter in a row.
I have written about Gilead repeatedly in these pages as well on SeekingAlpha.
This large cap biotech concern is the largest position within my own portfolio as well as a solidly performing core position within the recently launched Biotech Gems newsletter.
Today, I want to take a different angle on Gilead. Given the frenzied M&A activity in the biotech and biopharma sectors in 2015 I would like to engage in some speculation on what Gilead Sciences may buy in the near future. Obviously this would be a huge positive catalyst for any target company Gilead sets its sights on for its fast increasing free cash flow as it seeks to enhance its already impressive pipeline.
Gilead's management has stated consistently that it's looking to enhance its evolving oncology pipeline and is looking at acquisitions in the $1 billion to $5 billion range. I offer up two companies that I have covered extensively here and that have had nice rallies but still could make strategic sense within the arms of Gilead, and at a nice premium of course!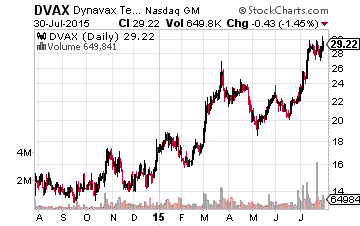 First up is Dynavax Technologies (NASDAQ: DVAX), a small biotech play with a market capitalization right at $1 billion before any buyout premium.
The stock has more than doubled since I first wrote about it here on Investors Alley late last year.
Dynavax has two items in its pipeline that should appeal greatly to Gilead.
First it has an 8,000 person plus phase III trial going on with its compound HEPLISAV – B. This is a vaccine to treat hepatitis B, more prevalent but less lethal form of the disease compared to hepatitis C. This trial has a high likelihood of success given previous trial results and recent analyst comments.
Successful results should allow Dynavax to have this product on the market by early 2016. Hepatitis B is the world's most common liver virus, having chronically infected an estimated 240 million people worldwide, according to the World Health Organization.
According to GlobalData, the global hepatitis B vaccine market should reach approximately $1.2 billion by 2022, with the U.S. accounting for nearly 60% of the market. Gilead with a global sales force that is already deeply engaged in marketing its blockbuster hepatitis C products Sovaldi & Harvoni could easily fold this vaccine within its product arsenal and dominate the market.
As importantly, Dynavax is developing a compound called SD-101. This drug candidate SD-101 is designed to invoke a focused immune system response to cancer. The drug's intratumoral approach to treating cancer has received positive feedback from physicians, and the firm specifically noted the drug's potential for broad applicability.
Currently enrolled in a Phase ½ study to research its effects on adults with lymphoma, the drug is slated for another Phase ½ study focused on the treatment of melanoma. More than one analyst has commented SD-101 could offer more potentially lucrative upside than HEPLISAV – B.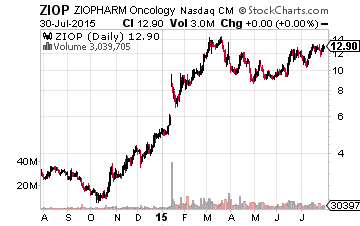 Next up in ZIOPHARMA Oncology (NASDAQ: ZIOP), which as the name implies is focused on the oncology space.
Specifically ZIOPHARMA is focused on the emerging field of immunotherapy, the hottest part of the current focus on cancer.
Immunotherapy is a focus on treatments that uses your body's own immune system to help fight cancer.
ZIOP has almost quadrupled since I pointed out this company's potential around the same time I profiled Dynavax in late October of 2014. Even with the huge rally and a substantial premium, Gilead could acquire the company for less than $2.5 billion. This is approximately half of the revenues brought in last quarter by Gilead's blockbuster hepatitis C franchise to put it in perspective.
It would also establish Gilead in this emerging area in cancer treatments. Celgene (NASDAQ: CELG), another of the "four horsemen" of biotech; just did a $1 billion collaboration deal with another immunotherapy focused concerned named Juno Therapeutics (NASDAQ: JUNO).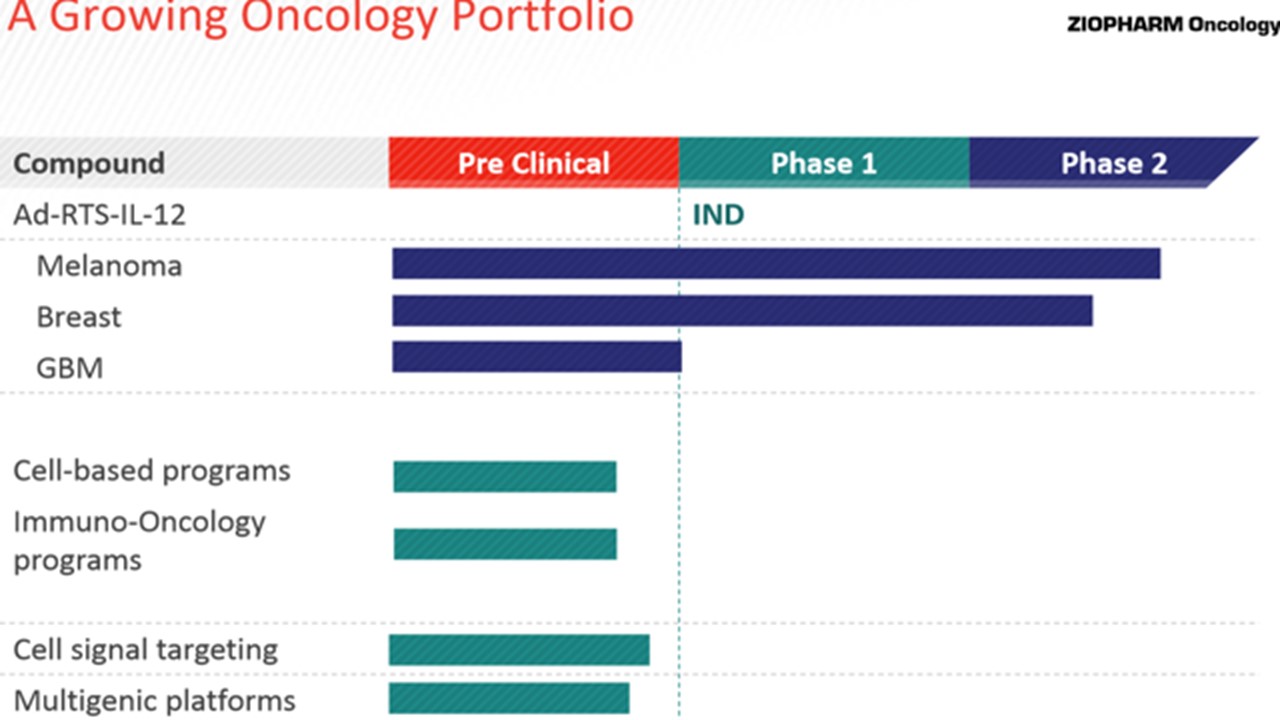 The company has several compounds in early stage development for a variety of indications and Ad-RTS-hIL-12 just received Orphan Drug status for specific forms of brain and spinal cancer. If ZIOPHARMA is not bought out in the near future I do expect it to partner with a larger player to develop some of its pipeline.
ZIOPHARMA is the more speculative of the two concerns given its huge run up it and other immunotherapy concerns have had in the last year. However, although I have taken some profits on each of these names during their rallies; I still like them as promising though speculative equities within the small biotech space. Either would also make sense as a strategic acquisition for the largest holding in my portfolio as well.
— Bret Jensen
3 Breakout Stocks to Put in Your Portfolio [sponsor] What if today – right NOW – you were handed 'preferred and exclusive access' to the NEXT Pier 1 Imports (rose 12,700%)… the NEXT Concur Technologies (zoomed up 41,290%)… or the NEXT BJ's Restaurants (soared up for a towering 47,570% gain)? It's happening again. Small Cap Gems just closed out on its second massive winner at 464% in six months… that follows a 215% winner in five months.
For every investor who missed the boat on these winners, hundreds have skipped to the bank with a truly massive payday. Isn't it about time its your turn? Click here for the new free report, "3 Prime Breakout Stocks", containing what could be the next Pier 1, Concur, or BJ's. Start putting winners in your portfolio today. Click here.
Source: Investors Alley
Positions: Long CELG, DVAX, GILD & ZIOP