On [Saturday], I showed you how to turn the recent sell-off in Apple Inc. (Nasdaq: AAPL) to your advantage.
But that's not the only way to exploit Wall Street's latest overreaction.
Today I want to tell about a company that has been a key part of the Apple's and the iPhone's smashing success – and, thanks to that, it's a tech stock currently out of favor on the Street.
[ad#Google Adsense 336×280-IA]But this play is more than just an Apple supplier.
In fact, it's one of the best "pick-and-shovel" plays out there, because this firm's designs can be found in products made by some 300 companies.
Moreover, this British firm makes its money by licensing its technology to other companies.
I like to think of this as a "license to print money."
Let's figure out how to scoop up some of that cash ourselves…
Apple's "Merchant"
As a longtime tech investor, I'm always on the lookout for great pick-and-shovel plays. These companies don't develop smartphones or video games or any other tech consumer product you'd be familiar with.
Their technology is invisible.
They develop the systems, semiconductors, and other "ingredients" that consumer tech companies need to operate more efficiently.
As boring as that sounds, remember this: About 300,000 "Miner Forty-Niners" came to California hoping to strike it rich during the Gold Rush of 1848-1855. But it was the merchants who discovered the real "mother lode" – by selling the picks and shovels the miners needed to pursue their dreams.
In other words, with pick-and-shovel plays, we get all of "gold's" upside – gold here being smartphones and other hot tech products – without the risk of backing the wrong "miner."
And that's where microprocessor design firm ARM Holdings Plc. (Nasdaq ADR: ARMH) comes in.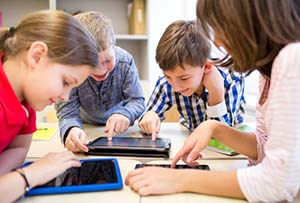 Pick-and-Shovel Pioneer
Founded in 1990, ARM revolutionized the semiconductor industry by pioneering "fabless" manufacturing – and it ranks as one of the world's very best chip design firms.
Fabless chip companies design – but do not manufacture, or "fabricate" – the semiconductors that make all of our digital devices possible.
By focusing on design, ARM avoids the huge overhead inherent in building and maintaining chip factories.
To put that in perspective, consider that Intel Corp. (Nasdaq: INTC) recently announced that it will spend a whopping $6 billion to upgrade one of its plants in Israel. In China, Intel is investing $1.6 billion to upgrade a plant in Chengdu – and that follows spending $2.5 billion on a plant in Dalian five years ago.
ARM avoids that process altogether. The British firm – probably the best known of the "Silicon Fen" companies based in and around Cambridge – makes its money by licensing its technology to other companies.
Like I said before, this is essentially a "license to print money."
ARM's Reach
Royalties and licensing account for more than 90% of sales, with the rest coming from services, software, and tools.
You can find ARM's designs in all iPhones and iPads. In that regard, the company has helped Apple become the most profitable mobile device maker in the world – by far.
But ARM doesn't stop there. Its designs also are in the flagship Galaxy smartphones from Apple archrival Samsung Electronics Co. Ltd. (OTCMKTS: SSNLF).
That's a lot of phones, but it still just scratches the surface. To date, ARM has signed more than 1,100 licenses with over 300 companies that have shipped more than 60 billion ARM-designed chips.
But don't take my word for it.
Let's have a look at how the company measures up…
We're going to be using my "five-part wealth-building strategy."
Rule No. 1: Great Companies Have Great Operations
First off, we look for companies with high operating margins and great leaders.
Consider that ARM has operating margins of 41%, roughly 36% higher than Apple's and more than three times those of Samsung. It's sitting on $1 billion in cash and virtually no debt.
CEO Simon Segars got the top job in 2013. He joined the company in 1991 – only ARM's 16th hire. Segars led the development of early products that went into some of the world's earliest mobile phones, and he holds patents for several bedrock semiconductor designs, making him a true visionary leader.
Rule No. 2: Separate the Signal from the Noise
To create real wealth, you have to ignore not just hype from the company, but also the noise you often hear coming out of Wall Street.
ARM's stock is down 13.7% over the past few months due to last week's Apple-related sell-off – and because its 22% increase in first-quarter sales missed forecasts by a scant 2.6%.
Ignore the noise – Wall Street's overreaction to ARM's financial report – and check out the signal.
Earnings jumped 39% to $120 million, meaning the company continues to improve its profit margins and cash flow. Plus, ARM raised its dividend by 25% to $0.20 a share and bought back 4 million shares during the quarter.
As far as I'm concerned, that means the stock is "on sale."
Rule No. 3: Ride the Unstoppable Trends
Two major trends are acting as catalysts for ARM – and that's good news for us.
The first is the mobile revolution, in which consumers are buying some 1.2 billion smartphones a year, 95% of which earn royalties for ARM.
ARM also is a major player in wearable tech – a very fast-moving market. Forecasters at IDTechEx project sales of wearable electronics will hit $20 billion next year and will be valued at almost $70 billion a decade later.
ARM supplies processors used in devices from industry leader Fitbit Inc. (NYSE: FIT), which just went public June 19. ARM also supplies components for wearables from Sony Corp. (NYSE ADR: SNE), Samsung, and Pebble Technology Corp.
Rule No. 4: Focus on Growth
Companies with the strongest growth rates almost always offer the highest stock returns – and ARM is a growth machine.
During the second quarter, the chip industry shipped 3.4 billion ARM-based processors, an annual increase of some 26%.
That means the sales growth rate for ARM-based processors is 10 times that of U.S. economic growth. And over the past three years, the company has grown sales an average of 19% a year.
Rule No. 5: Target Stocks That Can Double Your Money
This is where we look at ARM's earnings growth and see how long it will take to double profits. By doing that, we can figure out how long it should take for the stock to double.
I've gone through the firm's financials in detail and am projecting earnings per share will grow over the next five years by an average 22%. I did that to give it a conservative discount from its three-year average of 27%.
Now we use my "Doubling Calculator." Divide the compound growth rate of 22 into the number 72. We find that it should take roughly 3.2 years for ARM's stock to give us 100% gains.
ARMH opened today at $45.97, giving it a $21.85 billion market cap.
This is a great growth stock – remember, we're talking about triple-digit gains in less than three and a half years – and it's temporarily out of favor on Wall Street.
So take advantage of this early "back to school" sale and pick up the company whose designs are in 95% of the world's smartphones.
You can trust in this one for a long time to come.
— Michael A. Robinson
[ad#sa-generic]
Source: Money Morning