Most oil companies are suffering today…
As regular readers know, oil prices have been cut in half since June 2014. The Energy Select Sector SPDR Fund (XLE) – which holds a basket of energy companies that are in the S&P 500 – has fallen about 28% since June.
[ad#Google Adsense 336×280-IA]But there's one group of companies profiting big. And the opportunity could get even better…
As we've shown you in these pages before, the U.S. is producing massive amounts of oil and gas.
Annual U.S. crude oil production is up more than 70% since 2008.
Annual gas production is up 30% over the same period.
The world is producing so much oil and gas that it's outpacing demand.
According to the U.S. Energy Information Administration, the world produced nearly 2.6 million more barrels of crude oil and refined products per day than we consumed in the second quarter (April to June). This is the largest gap we've seen since 2010.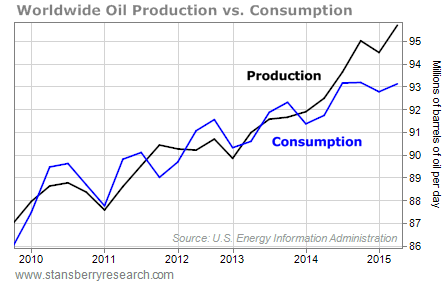 To make matters worse, OPEC (the Organization of the Petroleum Exporting Countries) has refused to cut production.
That means our oversupply problem isn't going away in the near term. But all this excess oil is good news for oil-tanker companies…
Oil-tanker companies use ships to carry oil products like crude oil, gasoline, heating oil, and fuel oil from producers and refineries to storage tanks and customers.
With more oil to be transported, these companies are cashing in.
The average daily industry rate for ships in Stansberry Resource Report holding Scorpio Tankers' fleet has increased by more than 50% since 2013. Meanwhile, Scorpio's share price has soared around 38% (including dividends) since we recommended it to readers last October.
Scorpio's peers are also doing well.
In short, oil-tanker companies are profiting from the oversupply of oil. And now, they have another tailwind at their backs… Iran.
You've likely heard about the recent nuclear deal with Iran. In short, in exchange for Iran curbing its nuclear program, the U.S., U.K., France, China, Russia, and Germany have agreed to ease sanctions on Iran. This includes removing sanctions on Iran's oil exports.
This is a big deal. Iran has an estimated 157 billion barrels of oil reserves. That's about 10% of world oil reserves!
Iran says it will increase exports by 500,000 barrels of oil per day as soon as sanctions are removed. There's some debate about how quickly it can reach this level. Investment bank Goldman Sachs says Iran will first have to show that it's complying with the agreement and revive aging wells. But the country plans to do so as quickly as possible.
Now, this deal still needs to be approved by the U.S. Congress, and Congress has until September to review it. So we can't know for sure if Iran will be allowed to export oil to Europe and the U.S. later this year. But if it is… oil-tanker companies will be some of the biggest beneficiaries.
Even if this deal doesn't go through, we still have a glut of oil. As long as that's true, oil tankers will continue to profit.
I recommend looking into any of the above oil-tanker companies today. If the Iran nuclear deal goes through, they'll profit even more. The prices of these stocks have recently moved higher, so use any pullbacks as buying opportunities.
Good investing,
Brian Weepie
[ad#stansberry-ps]
Source: Growth Stock Wire