The stock market is topping…
The S&P 500 came close to hitting a new all-time high last Monday… rallying as high as 2,132. But then it turned lower and declined sharply by the end of the week.
[ad#Google Adsense 336×280-IA]The market is now oversold. So we can expect a bounce in the short term. But the intermediate-term trend is lower.
I still expect the S&P 500 to decline toward the 1,990 level between now and October.
And I am growing concerned about the potential of a longer-term top developing…
The broad stock market peaks just about every seven years. The last top in the market occurred back in December 2007… so this current bull market is growing old.
But as I've shown you before, as long as the monthly chart of the S&P 500 is trading above its 20-month exponential moving average (EMA), the bull market remains intact. You see, the 20-month EMA is the line that separates bull markets from bear markets. When the S&P 500 is trading above its 20-month EMA, stocks are in a bull market. When the index drops below the line, stocks are in a bear market.
For example, the red circles on the chart below show the last two times the index dropped below the 20-month EMA, in late 2000 and early 2008… and bear markets began.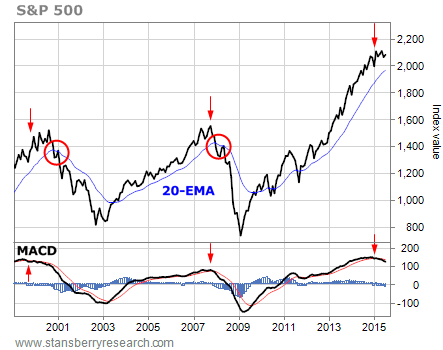 Right now, the S&P 500 is still comfortably above its 20-month EMA. Stocks are still in a bull market.
But look at the moving average convergence divergence (MACD) momentum indicator. The red arrows point to past times the MACD peaked and began to move lower. This happened close to the market peaks in 2000 and 2007.
This action turned out to be an early warning sign of an impending bear market. And it's happening again right now.
The MACD has turned lower from an extremely overbought condition. So it's best to be extremely careful with new long positions right now. The price action in the S&P 500 is still bullish, and it will remain that way as long as it holds above its 20-month EMA (currently at about 1,970). But it looks like we are entering a transition phase.
Keep an eye on this long-term chart of the S&P 500. The bull market may be nearing its end.
Best regards and good trading,
Jeff Clark
[ad#stansberry-ps]
Source: Growth Stock Wire