[jwplayer mediaid="13878″]High-yield bonds are flashing a major warning sign…
Back in March, I showed you the classic "risk on/risk off" relationship between the stock market and the junk-bond market.
[ad#Google Adsense 336×280-IA]In short, when investors are willing to take on risk to seek higher returns, they flock to stocks and high-yield junk bonds.
When investors are conservative and seek to protect capital, they sell stocks and junk bonds.
So these markets tend to move in the same direction.
When we last looked at this relationship, the stock market had hit a rough patch… But high-yield-bond prices were holding up, so I told you not to worry about stocks.
Since then, the S&P 500 has pushed higher – hitting a new all-time high two weeks ago. But now, the junk-bond market has changed…
Take a look at this chart of the iShares iBoxx High Yield Corporate Bond Fund (HYG)…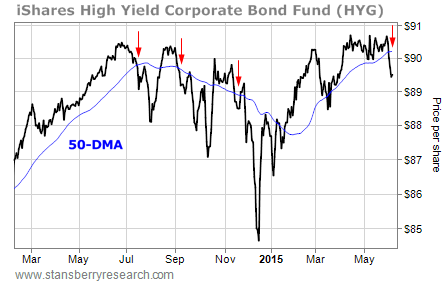 Prices of high-yield bonds broke down last week… causing HYG to break decisively below its 50-day moving average (DMA). The 50-DMA is widely seen as the determining point between an intermediate-term bull and bear market. Stocks that are trading above the line are in bull markets. Stocks that are trading below their 50-DMAs are in intermediate-term bear markets.
So high-yield bonds crossed into bear-market mode last week. And that means it's time to worry about stocks…
The red arrows on the chart above show each time HYG has broken below its 50-DMA over the past year (and did not recover immediately, as it did in March).
Now, take a look at this chart of the S&P 500, with red arrows marking selloffs over the past year…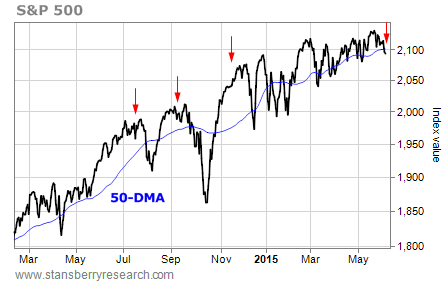 As you can see, the red arrows on the HYG chart line up well with the selloffs in the S&P 500 over the past year.
Each time HYG has broken below its 50-DMA, the S&P 500 has declined as well – with selloffs ranging between 3% and 7%.
The last time this happened – back in November – HYG fell 6% in just a couple of weeks. The S&P 500 lost 5% during that same time frame.
With HYG breaking below its 50-DMA last week, the odds are high the S&P 500 will soon sell off as well.
So it might be time for traders to start getting out of the stock market. At the very least, investors should be tightening up stops in order to protect their profits. Aggressive traders should consider speculating with short sales in the short term.
Best regards and good trading,
Jeff Clark
[ad#stansberry-ps]
Source: Growth Stock Wire