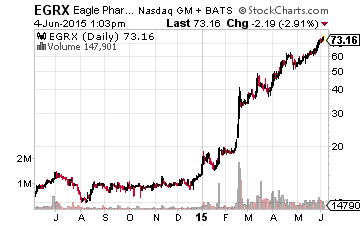 There are few things more exciting than buying a small biotech stock just before it goes on a massive tear.
Subscribers to Small Caps Gems have experienced this feeling with small biopharma Eagle Pharmaceuticals (NASDAQ: EGRX) which has shot up from the $14.20 a share when recommended in mid-December to a current level of above $70.00 a share, a return of better than 400% in less than six months.
Obviously a stock does not have this sort of massive run without a substantial catalyst to trigger the rally.
[ad#Google Adsense 336×280-IA]In Eagle's case it was a game changing collaboration deal with generic giant
Teva Pharmaceuticals (NASDAQ: TEVA)
in mid-February around its main drug candidate.
As can be seen from the chart above, the stock has never looked back since the time that transaction was announced.
This makes sense given that FY2016 earnings per share consensus estimates have gone from under $2.00 a share when the deal was made public to a current $5.65 a share profit projection.
I have learned to recognize when an already attractive company in this small speculative sector receives a positive catalyst that sometimes takes the overall market several days, weeks or months to fully price the news into the shares.
Here are several stocks I have written about on these pages at much lower prices that have recently have been the recipient of positive catalysts that should power the next leg of their rallies.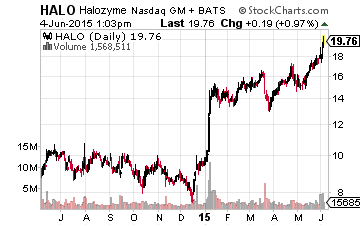 Let's start with Halozyme Therapeutics (NASDAQ: HALO), a biotech with a market capitalization of just under $3 billion.
The stock has just about doubled since I first profiled it in these pages in early January.
However, the run in this equity feels like it is just beginning.
In April the company announced it will begin a critical Phase III trial commencing in the first quarter of 2016 to evaluate its drug PEGPH20 in patients with metastatic pancreatic cancer, using a trial design that will support a New Drug Application if successful. Obviously if results are positive, this could be a huge catalyst for the stock given the prevalence and complexity of treating this lethal disease.
Last week the company announced a more immediate catalyst. Halozyme stated it has entered into a global license and collaboration deal with pharma giant AbbVie (NASDAQ: ABBV) to develop and commercialize AbbVie compounds in combination with Halozyme's ENHANZE drug delivery platform. Halozyme will receive a $23 million upfront payment and milestones up to $130 million for each of nine collaboration targets as well as tiered royalties on any commercial sales.
Obviously this is a giant vote of confidence from a major player in the market around the viability of Halozyme's technology platform. Janssen, a unit of Johnson & Johnson (NYSE: JNJ) entered a similar type of arrangement late in 2014. I expect to see at least one analyst upgrade this week because of this recent deal.
Given the interest Halozyme has drawn from two of the biggest pharma firms in the industry over the past six months one has to put Halozyme on their possible buyout list as well given the robust levels of M&A activity in this sector so far in 2015. Note: this served us well last year with Avanir when we picked it up in July and it got acquired in December by a larger pharmaceutical firm and gave Small Cap Gems subscribers a quick 215% gain.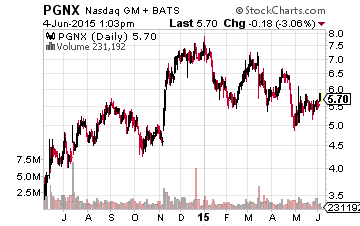 Let's move on Progenics Pharmaceuticals (NASDAQ: PGNX) which is up some 25% since I first covered it in late October.
On May 27th, BTIG initiated the shares as a "Buy" and slapped a $12.00 a share on Progenics, more than twice its stock price at the time.
This follows Brean Capital reiterating its "Buy" rating and $11.00 a share price target on PGNX a month before.
This was the first new analyst activity on the stock since 2014.
More importantly, the company's main drug candidate "relistor" was cleared in the European Union for the treatment of adult patients with opioid-induced constipation who have had an insufficient response to laxative therapy. This significantly expands the number of patients that now can be treated with the drug and should boost revenues nicely in the quarters ahead.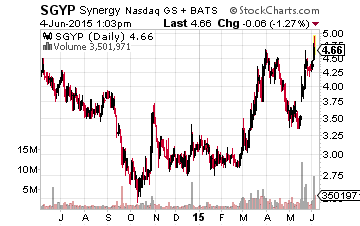 Finally, we have small cap Synergy Pharmaceuticals (NASDAQ: SGYP) which is up more than 15% since I last covered it here with Investors Alley in March.
Analysts seem to found some love for the shares in the last month.
This makes sense as Synergy is approaching two Phase II top-line readouts in in the next few months for its chronic idiopathic constipation program, examining the safety and efficacy of plecanatide which is one of two main drug candidates in current development.
Canaccord Genuity initiated the stock as a "Buy" on May 22nd, with an $11.00 a share price target, this is approximately 125% above the current stock price. Cantor Fitzgerald reiterated its buy rating and $8.50 a share price target ten days earlier. Cantor's analyst noted Synergy's large cash balance, upcoming trial results and the company's potential as a takeout as primary reasons for his rating stance.
I don't know if any of these small caps will ever equal the amazing performance of Eagle over the past few months but they certainly have the positive catalysts and momentum to move significantly higher from here.
— Bret Jensen
Sponsored Link: In my new Biotech Gems letter I'm building a solid high growth / high return portfolio of biotech stocks poised to provide returns as the stocks mentioned above have. If you're interested in juicing your portfolio with the fastest growing stocks in the hottest market sector you owe it to yourself to read my short briefing. CLICK HERE.
Source: Investors Alley
Positions: Long EGRX, HALO, PGNX and SGYP