The small biotech sector is one of the most volatile sectors of the market. A successful trial result can produce 20%, 30%, 50% or even 100% gains in a day; a disappointing result which happens all too often can crater the stock of the company by just as much.
[ad#Google Adsense 336×280-IA]This is why it is critical that an investor be well-diversified across this space either through a well-run mutual fund, newsletter portfolio or hands-on management.
I call this "Shotgun Investing" which involves taking myriad small positions across a swath of promising but speculative biotech companies.
One must acknowledge that some blowups within one's portfolio are inevitable but the occasional "grand slam" will produce superior returns over time to the overall market.
With that in mind, I would like revisit some of the small biotech stocks that have been offered up here in the last nine months. Several are much higher than when originally highlighted based on positive catalysts, but the most exciting news is that they still could be in the early innings of significant rallies.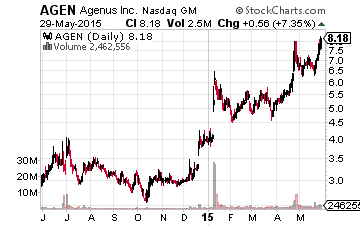 Let's start with Agenus (NASDAQ: AGEN) which is trading currently at approximately $8.00 a share.
The stock has rallied from under $3.00 a share since I first profiled it but still could have significant upside.
The stock even rallied after recently announcing a secondary offering to raise some funds for further development, this is very encouraging as it shows strong demand for the stock right now.
More importantly, the adjuvant it produces for vaccines is gaining traction. It should see vaccines on the market for both malaria and shingles by the end of the year which were developed by giant GlaxoSmithKline (NYSE: GSK).
Agenus will get milestone payments when approved and a share of sales in royalties. 600,000 people die of malaria in Africa each year which should garner plenty of positive press when approval is given before the end of 2015. Probably the more lucrative product will be the shingles vaccine which affects 300 million people in their lifetimes in the developed and wealthy countries of Japan, the U.S., and Europe.
Next up is AVEO Oncology (NASDAQ: AVEO) which has soared since I first wrote about this speculative play back in December when the stock was trading under $1.00 a share.
AVEO is trading above $2.00 a share now as recent phase II results for its lead drug candidate showed positive results as a second-line treatment in patients with advanced renal cell carcinoma.
The company is a presenter at the Jefferies 2015 Global Healthcare Conference on Thursday which could be the next positive catalyst for the stock that still has a market capitalization of under $125 million.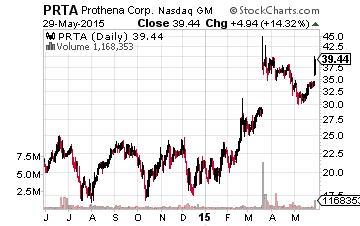 Prothena Corp. (NASDAQ: PRTA), a small biotech concern that is up 80% since I did a piece on it in late September has several early stage compounds focused on developing novel antibodies for diseases involving protein misfolding or cell adhesion such as Parkinsons.
The latest catalyst for the rally was that UBS upped its price target on the stock to $58.00 from $53.00 a share Friday.
Credit Suisse also initiated the shares as a "Buy" with a $53.00 a share price target early in May. Positive results in a Phase 1 trial evaluating its product candidate, PRX002, for the treatment of Parkinson's disease in March have bolstered the shares as well.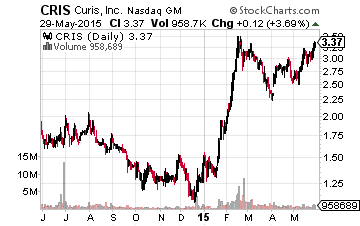 Curis Inc. (NASDAQ: CRIS) is up more than 150% since I highlighted this underfollowed company in late 2014.
Helping the shares was one of the compounds in the company's development pipeline received Orphan Drug status for the treatment of diffuse large B-cell lymphoma in April.
This status gives a seven-year period of market exclusivity, if and when the drug is approved.
In addition, Robert W Baird reiterated its Buy rating and this early stage clinical development company a month ago and has a $5.00 a share price target on Curis.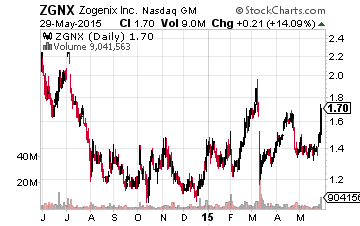 Finally, we have small cap company Zogenix (NASDAQ: ZGNX) which is up nicely since I talked about the company early in 2015.
The company made a bet the farm move in March when it sold the only drug it had on the market, a painkiller named Zohydro to Pernix Therapeutics Holdings Inc (NASDAQ: PTX) for potentially over $350 million as the company will get upfront payments and incentives depending on sales milestones.
These funds will be used to develop two late stage drugs in Zogenix's pipeline: Brabafen, to treat Dravet syndrome, and Relday, to fight schizophrenia. In early going, this looks like a good bet. The company just released good trial results for its Dravet Syndrome drug. Phase III trials of that drug should start later this year, and Brean Capital just reiterated a Buy rating and $2.50 price target on Zogenix yesterday which currently sells for around $1.60 a share. Oppenheimer did same three weeks ago.
All of these small cap biotech plays have performed superbly since they were highlighted. However, based on recent catalysts, they still could have significant upside ahead if things continue to fall their way.
Biotech stocks have been on a tear for the past nine plus months as much of the "risk on" money that had previously been in the energy sector was redeployed to biotech. The companies I follow and have brought to readers' attention over these months are more than just speculative plays however: they have a solid pipeline of products, multiple shots on goal, and most have partnership tie-ups with the largest of the pharmaceutical firms thus ensuring a steady stream of cash flow. This combination mitigates much of the risk while capitalizing on the potential upside for these firms.
— Bret Jensen
Sponsored Link: In my new Biotech Gems letter, I'm building a solid high growth / high return portfolio of biotech stocks poised to provide returns just as the stocks mentioned above have. If you're interested in juicing your portfolio with the fastest growing stocks in the hottest market sector you owe it to yourself to read my short briefing on them. Click Here.
Source: Investors Alley