Commodity prices are down 60% from their 2008 peak… and they've lost a quarter of their value in the past year alone.
When will the bad times in commodities end?
They could already be over, actually…
After nearly seven years of terrible times in commodity prices, I now see a glimmer of hope…
The Bloomberg Commodity Index hit bottom last month (March 2015)… and has been quietly heading higher. You can see it in the bottom right of this chart.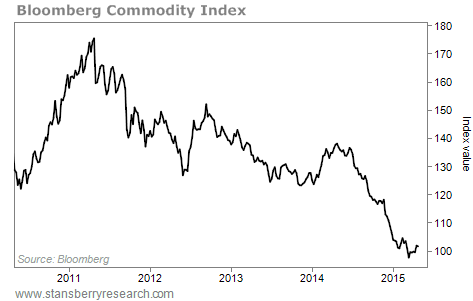 Hey, I realize it's a small move higher… But that moment in March – in hindsight – could turn out to be the bottom in commodity prices…
[ad#Google Adsense 336×280-IA]You see, investor sentiment in commodities hit an extreme low last month (according to
www.SentimenTrader.com
).
Commodities haven't been this hated since late 2001 and late 2008.
This is big news to me.
Late 2001 and late 2008 both would have been great moments to buy commodities and hold them for the next year.
Assets typically don't bottom in price until investor sentiment is terrible.
So we've finally checked that box in commodities. Now, we have a glimmer of an uptrend that has been in place for more than a month, as well. That gets me interested as well.
Importantly, this move up in commodities is not ALL about oil either… The Bloomberg Commodity Index is reasonably diversified. Take a look at its most-recently-published index weights:
• Energy: 33.2%
• Agriculture: 28.7%
• Industrial Metals: 16.7%
• Precious Metals: 16.5%
• Livestock: 5.1%
Stocks and real estate have soared in recent years. Meanwhile, commodity prices are sitting at lows not seen since 2002. It's easy to make an argument that there's upside potential here.
Commodities hit a hated extreme in March. Now they're showing a glimmer of an uptrend. This is the kind of trade "setup" that I like to see…
I prefer a trade where my downside risk is small and limited, but where my upside potential is quite large. I could be early here… but I think we're close to that point in commodities today.
You could buy a commodity exchange-traded fund (ETF) and set your stop loss at new lows in that ETF. That would limit your downside risk – but your upside potential could be dramatic.
After the last two times investor sentiment bottomed in commodities, commodity prices soared over the next two years.
I'm not in the trade yet… But I'm definitely interested…
Put commodities on your investing radar now. At some point, I will pull the trigger here…
Good investing,
Steve
[ad#stansberry-ps]
Source: Daily Wealth