One thing I learned a long time ago in the small cap arena is to watch the analyst commentary for possible new investment ideas in this under covered and volatile sector.
Small Caps typically get minuscule analyst coverage compared with their larger brethren, and when more than one analyst lines up behind a particular small cap equity, it could mark the start of a substantial run in the stock.
[ad#Google Adsense 336×280-IA]Covering analyst ratings on the small cap sector used to be next to impossible unless you were getting alerts from a white shoe brokerage firm as a preferred client.
The blossoming of the internet has changed access to analyst reports on this sector dramatically.
Now an investor can go online to see the latest analyst report on any stock for free.
This has greatly enhanced my hit rate in this space and I have had more than one "home run" by noticing and actioning some attractive small cap plays that analysts were warming up to before big rallies in these stocks.
Here are a couple of promising plays I have noticed recently that have started to receive their share of analyst love.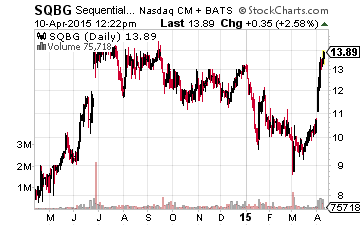 Let's start with little known retailing play Sequential Brands (NASDAQ: SQBG).
This stock has been reiterated as a "Buy" by Canaccord Genuity, Piper Jaffray, and Wunderlich over the past two weeks.
Price targets proffered up have ranged from $17.00 to $20.00, a nice implied upside for a stock that [trades around] $13.50 a share even after a recent rally.
The trigger of the stock's recent rise and sudden analyst appreciation is that Sequential recently took a majority stake in the surprisingly strong Jessica Simpson Brand. The purchase included the Jessica Simpson Collection which is a growing lifestyle brand that offers more than two dozen product categories including footwear, apparel, fragrance, fashion accessories, maternity apparel, girls' clothing and a home line sold through department store chains.
Sequential made this purchase for just over $250 million. This collection of business does some $1 billion in annual sales and Sequential believes the purchase will add approximately $80 million in royalty revenues and $50 million in adjusted EBITDA in FY2015 and will be immediately accretive to earnings. Sequential Brands went into the Turnaround Stock Report portfolio in the January edition as it clearly fit my Domino Strategy. The stock is up some 20% since then, and further upside lies ahead as the company continues to make these accretive and strategic acquisitions.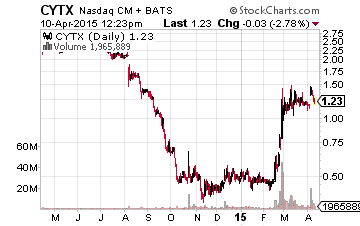 Next up is Cytori Therapeutics (NASDAQ: CYTX), a small up-and-coming biotech firm.
The stock has doubled to approximately $1.25 a share since its inclusion in the February issue of the Turnaround Stock Report as the company has been the recipient of several positive catalysts over that time span.
The Chinese version of the Food and Drug Administration approved the company's Celution System for sale in the Middle Kingdom.
Cytori then announced a potentially lucrative 30 year deal with Lorem Vascular to market and sell this system in China. In addition, The European Commission just designated Cytori's drug candidate ECCS – 50 as an Orphan Drug for the treatment of scleroderma. It is the first autologous adipose-derived cell therapy for the indication to be so designated by the commission.
Analysts have taken notice of recent events. Maxim Group, Roth Capital and Laidlaw have all reiterated "Buy" ratings on Cytori in April. Maxim group has a whopping $7.00 a share price target on CYTX and Roth Capital has a $6.00 a share bogey on the equity.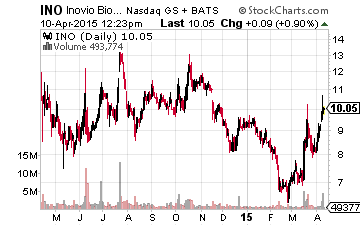 Inovio Pharmaceuticals (NASDAQ: INO) has also been in the news and the recipient of positive analyst commentary over the last month.
Inovio is a clinical-stage biopharmaceutical company developing active DNA immunotherapies and vaccines in combination with proprietary electroporation delivery devices to prevent and treat cancers and infectious diseases.
The stock has a market capitalization of just $600 million.
The company was just chosen to lead an effort to develop multiple treatment and prevention approaches against Ebola. Inovio will be the prime contractor on this initiative which is being funded by a $45 million grant from the Defense Advanced Research Projects Agency, an agency of the Department of Defense.
In March, The National Institute of Allergy and Infectious Diseases awarded a five-year $16 million grant to Inovio and its academic collaborators to expand the HIV strains covered by the company's PENNVAX HIV vaccine and to further enhance the antibody responses generated by the vaccine.
Even before this recent announcement, analysts were already warming up to the company's prospects. H.C. Wainwright initiated the shares as a "Buy" with a $17.00 a share price target in March. Brean Capital reiterated its Buy rating a week later and has a $20.00 a share price target on INO. The stock currently sells for $10.00 a share.
Insiders are also positive on Inovio's prospects as three directors have bought more than $2.5 million in new shares over the past eight months. The company has myriad vaccines in pre-clinical development and early stage trials and has the multiple "shots on goal" I like to see before taking a stake in an attractive but speculative biotech company. In addition, the company ended its last completed quarter with over $90 million in net cash on the balance sheet which should easily fund operations until at least 2017.
Analysts do not always hit their mark in the small cap space but I have found that when several analysts line up behind on a small cap equity, it frequently is a forerunner of significant capital appreciation in this arena.
— Bret Jensen
[ad#ia-bret]
Source: Investors Alley
Positions: Long CYTX, SQBG